On the occasion of his back-to-school conference, Hervé Gastinel, President of the Bénéteau Group, offered an exclusive interview to BoatIndustry. In this 1st part ( the 2nd part to be read here ), he presented his vision of the service offer of the French leader in yachting.
At a press conference, you mentioned a new phase in the Bénéteau Group's digitalisation strategy. What does it correspond to?
We are in a changing environment, with a new way of consuming and travelling. Pleasure boating is struggling to evolve and to position itself in this digitalization of the world. The Bénéteau group wishes to become a world reference for all boating experiences across a galaxy of services such as the digital platform Band of Boats, but also the Boat Clubs or the Leasy Boat financing offer.
Can you tell us more about Band of Boats' objective for the Bénéteau group?
We launched Band of Boats in April 2018 in France. It is a digital platform for lovers of the sea, to facilitate access to boating for people who are looking for use without the constraints. It is both a marketplace for the purchase of new or second-hand boats from professionals or private individuals, a weekly boat rental offer from professionals, with or without skippers, and a community exchange place with opinions on boats. For the Bénéteau Group, it is a wealth of information and data to develop the offer and follow the evolution of new yachtsmen's expectations.
Signing of the partnership with Freedom Boat Club
How do boat clubs fit into this strategy? How will you manage the integration of sailboats there?
We have taken a new step forward in the offer of our boat clubs (Editor's note: Bénéteau Boat Club and Freedom Boat Club partnership for the Jeanneau brand) with the switch to the unlimited offer for a monthly payment from 400? to 600?. The objective is to make people want to sail. I think the risks are even more limited with sailboats where there is no notion of speed, running cost with fuel or mechanical wear. Concessionaires have already established partnerships with service companies, as La Baule Nautic has done with La Baule Yacht School, to offer coaching, boat licences or introductory courses.
Financing services are also evolving, with Leasyboat. For what purpose?
This is the whole issue that the automobile has been able to address. This is a non-binding financing to renew the attractiveness of the yachting sector in a highly competitive leisure environment. The offer, developed with SGB Finance, is "all inclusive", over 4 years, without contribution, including takeover, with engine maintenance.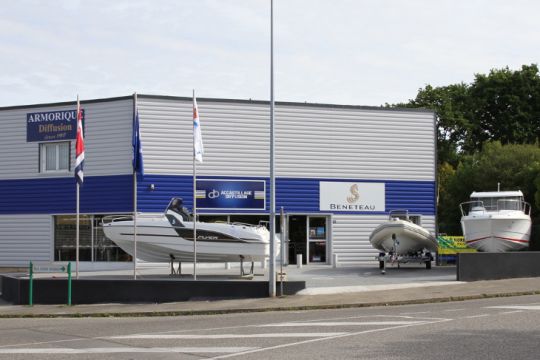 What is the place of the dealer in all this?
Boating is struggling to keep up with current developments. We're lucky we haven't been disrupted. That doesn't mean it won't happen. So we start thinking with the dealers. We won't do anything without them. We will not detach ourselves from it as others have been able to move more towards rental.
Moreover, when we launch the Bénéteau Boat Club, it is with them. For Band of Boats, they were notified in advance. The important thing is to share the direction, not to do separate actions. We are also considering a CRM to better share the commercial lead between the manufacturer and the dealers. This work with our network is this year's challenge.