On the occasion of his back-to-school conference, Hervé Gastinel, President of the Bénéteau Group, offered an exclusive interview to BoatIndustry. In this 2nd part ( see the first part of the interview here ), it outlines the industrial strategies and brand positioning of the heavyweight in the nautical industry.
You acquired a major plant in Poland through the acquisition of Delphia. On a larger scale, what is the Bénéteau Group's strategy for the production of its boats?
We are making major industrial investments to increase the flexibility of our plants by producing different models. We also want to produce as close as possible to our customers, by matching production levels with sales levels. With the acquisition of Delphia, we are strengthening our position in the Polish market, with development and prototyping capabilities. We also reopened a former RBH Group plant in Cadillac, which has been closed since the 2008 crisis. This adds a capacity of 1000 boats per year in the United States. Even if the Asian market is not yet mature, we must be prepared for it. We have grouped the commercial part in Hong Kong and a production site could be set up within 2 years. The priority today remains Europe and the United States.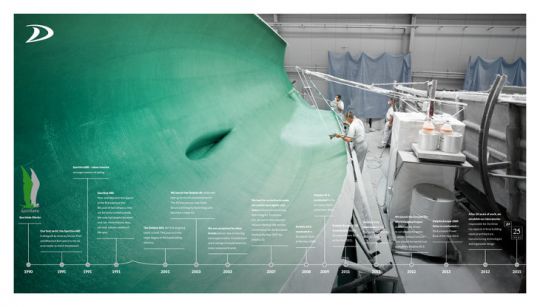 What is the future of the newly acquired Seascape and Delphia brands?
The Sescape brand is not a global brand, but a community brand. Much has been done, particularly in France and Germany, to federate and animate the network. We will continue to work in France with François Coutant, the Seascape distributor. We are delighted to be joining a good team and an architect, Sam Manuard, with whom we had never worked before. Then, it is clearly in First that the future of Seascape is at stake From an industrial point of view, boats are subcontracted to a large extent and we are examining whether it is more appropriate to reintegrate production.
Concerning Delphia, there are many great brands like Bluescape, Escape or Nano. We are conducting a complete investigation to see how to integrate them into our range.
How will the production of Lagoons, Excess and CNBs be structured? Where is the one-off production in Bordeaux? What about the sea snake of a move to the Mediterranean?
The launch of the Excess catamarans took time to create the range, but also because of the production challenges. We doubled our production capacity last year, with 800 multihulls between Bordeaux and the Vendée. Excess catamarans will not have a dedicated manufacturing site.
Concerning a reinforcement of CNB Lagoon towards the Mediterranean, it is not excluded. But the transport problem does not require this location. On the other hand, we are encouraging initiatives such as the expansion of our supplier Sailing Atlantique Services in Canet en Roussillon.
The CNB one-off boat activity is now in a dormant state. There was a lot of activity, particularly with the CNB 90-foot project and the priority remains the Lagoon, CNB and Excess ranges.
You are releasing many new models. Is this race for novelty necessary?
I think so, yes. There has been a lot of criticism of auto groups for declining because of this. The investment is 1.5 to 2M? per new model for several hundred boats. These are not gadget innovations. Only a group with industrial capacity, capable of synergies that make it possible to pool development costs and with a global network can maintain such a renewal rate over several years. The second-hand market pushes us to differentiate ourselves.