On the occasion of his back-to-school conference, Hervé Gastinel, President of the Bénéteau Group, offered an exclusive interview to BoatIndustry. In this 3rd part, he gives his analysis on the evolutions of the world nautical sector, between industrial concentration and respect for the environment.
There have been many takeovers and mergers in the boating industry in Europe and the United States, whether shipyards, marine engine manufacturers or equipment manufacturers. We have seen BRP buy back brands of boats, Yanmar launch into rental or Fountaine-Pajot take over the Dufour sailboats. What is your analysis of this movement?
There is undoubtedly an acceleration of the phenomenon of concentration in boating. We are looking at what is happening everywhere, including in the United States with Malibu Yachts. We can see that things are also moving for engine manufacturers, who are rebalancing their product plans. There is the example of Marine Max, which is developing more and more upstream. Yamaha should also make announcements. We can see that there is no single model. The Bénéteau Group's remains to focus on the matrix of 15 to 100-foot boats and all services. Upstream is not our project.
The trade war launched by the United States is another element of the international context. What impact has it had on the Bénéteau Group to date?
Generally speaking, we have the impression that it calms down after a wind of panic. There was no major impact at the group level. It is estimated that this will have cost us about ?4-5 million over the 2017/2018 financial year. The situation with Mexico has been resolved.
Canada, the largest market for our American brands, with a 10% tax, is in the process of reaching an agreement. As for the European Union, it seems that an agreement is also being negotiated. This generally refers to the need for the Bénéteau Group to desensitize itself to the threats of trade war by transferring the manufacture of boats as close as possible to consumer areas.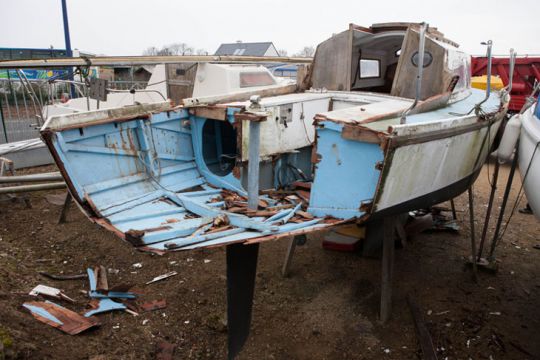 End-of-life boats are a challenge for the industry. What is the Bénéteau Group's position on this subject? What role can dealers play?
We got involved very early on. There is a collective delay in the nautical sector on environmental issues. It starts from scratch. We apply ISO 14001 standards for the environment, in particular styrene emissions and ISO 50001 for energy management. There is a big challenge to get out of the suction cup boats.
We still need to clarify resources and regulatory aspects. There is a tripartite discussion to have with dealers and customers. We had the example of car scrappage bonuses. This also involves eco-design, with the dismantling of parts in mind from the outset. It is an approach in which the group is involved.