The Air Winch was launched at the end of 2015 by Harken to manage the adjustment of the AC 48 wings of the America's Cup. Mark Wiss explained at the time that"during the previous cup, the four teams used different Harken winches to adjust their wings. It was a clear sign that there was an opportunity for us to develop a unique winch for wing trimming.". According to Harken, the product has since attracted other Grand Prix boats.
A featherweight
For the America's Cup, every gram counts. So Harken has developed a winch with an empty centre. This is the first time that the product has been made as light as possible.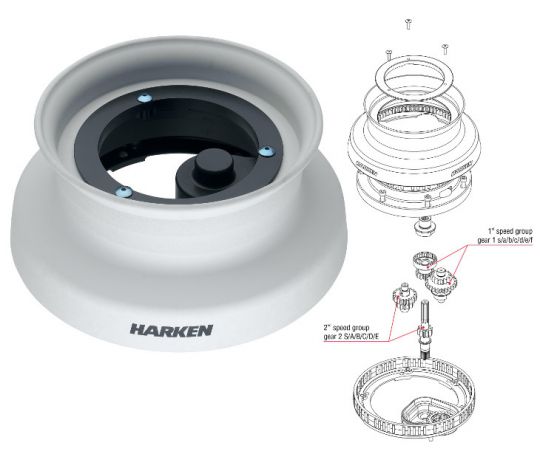 Interchangeable gears
Another essential innovation of the Air Winch, the gears can be changed according to the needs to adapt to the strength of the wind. 7 options are available for the first speed and 6 for the second, in order to adjust as well as possible the gear ratio to the climatic conditions and the crew.
Large diameter drum
The 200 mm drum, with its white ceramic coating, allows by its large diameter to limit the number of turns, while allowing a finer adjustment and an easier shock. Its low height helps to lower its centre of gravity.
The Air Winch is available in standard or counter-rotating models.
Modern design
Beyond the fashion effect of the America's Cup, Air Winch's modern and sleek look will surely seduce boaters. It remains to be seen whether the price, which has not been distributed, will allow democratization in the years to come, via a more general public version.