A magnetic spot
The Jolly Roger is a two-part lighting system, a fixed base and a movable sphere containing the bulb. The base is screwed to the wall or ceiling of the cabin. Each element containing a magnet, the sphere uses magnetic force to pluck itself onto the base. The user can thus easily direct the light beam as he wishes, without wearing mechanical connecting parts.
Lighting to the touch
The switch of the Jolly Roger is integrated in the lower part of the sphere, without any visible element. Simply touch it to turn the lamp on or off with the Touch Switch system.
Available as standard with a warm light of 3000°K, the Jolly Roger can be optionally manufactured in white 6000°K, yellow at 2700°K or white - red bi-illumination, with two additional cables, for illuminating a chart table for example.
Compact dimensions and many finishes
The Jolly Roger from BCM Illuminazione is extremely compact with a diameter and height of 45 mm. It has a power of 3 W. Twelve different finishes ranging from bright chrome to satin black nickel and copper are available.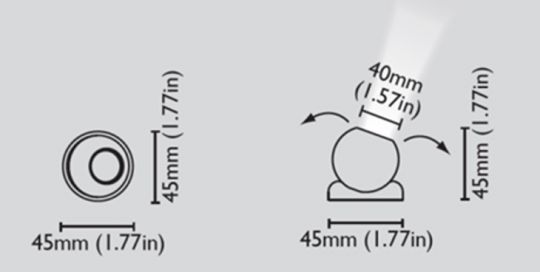 Upcoming commercial launch
After the technical development and presentation at METS, crowned by the DAME Design Award, BCM is working on the commercial launch of the Jolly Roger. The price of the lamp has not yet been made public. However, the Italian manufacturer is targeting a world market for its lighting, based on the recognition of an internationally recognized award.