No need for help to fix the through hull
Tru Design has been manufacturing and marketing moulded plastic parts for the marine sector since 1974. Fittings, ferrules, valves and through-hull fittings are just a few examples.
Aware of how difficult it was for a single person to install the through-hull fittings, New Zealand engineers invented a tool to lock it in position during screwing, without the help of a third party outside the boat. This invention won the DAME Design Award 2016 in the category equipment for marinas and construction sites, construction material.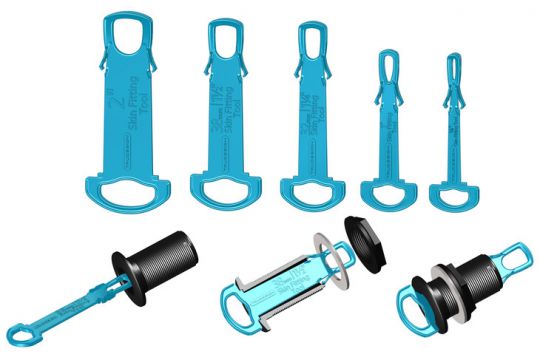 Procedure
Insert the tool into the body of the through-hull to be installed until the locking click is heard.
Prepare the through-hull with the necessary glue or seal. The tooling allows the through-hull to be held by a handle, without the risk of getting your hands dirty.
Insert the through-hull into the hole from the outside of the boat.
Once inside the boat, hold the body of the hull through the handle, while screwing the nut.
The tooling is made of reinforced nylon to allow regular reuse. Suitable for through-hulls between 3/4" and 2".
Tru Design products are distributed in France by Kent Marine Equipement and Vidal Diffusion Marine.