Amicable agreement around Pardo 43 and Fjord 42
The German sailing groups HanseYachts AG and Italian Cantiere del Pardo Spa, have reached an amicable agreement over their dispute concerning the motor boats Fjord 42 and Pardo 43. It puts an end to all legal proceedings brought for plagiarism by HanseYachts, then reclassified. Decisions previously rendered by the courts are annulled. The marketing, sale, production and promotion of Pardo 43 are now allowed in all countries. If the official statement uses diplomatic terms, it is a complete victory for the Italian yard.
End of one year of proceedings
Revealed in January 2018, the dispute between the Fjord and Pardo shipyards concerned the first model of 43-foot motor boat launched by the Italian shipyard known for its Grand Soleil yachts. The Hanse group considered that the new entrant to the powerboat market had copied its Fjord brand, with the help of information provided by a dealer. The Italian court dismissed the accusation of plagiarism, and in March 2018 the German manufacturer obtained a ban on the marketing of Pardo 43 on the Italian market, as unfair competition linked to identical options such as the extendable bimini or the hydraulic bathing platform. The new agreement puts an end to all its limitations.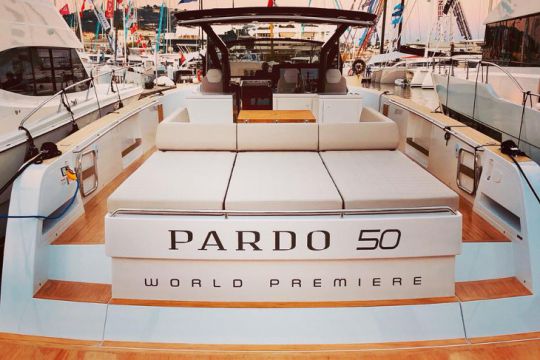 Pardo Yachts looks to the future
The deal comes just in time to name Pardo Yachts. The Italian boat manufacturer presented its 2nd motor boat model, the Pardo 50, at the Cannes 2018 boat show, with a style very close to its little brother, the subject of the dispute. Alexandre Boussin, manager of Port d'Hiver Yachting, Pardo Yachts distributor between Fréjus and Marseille, is delighted with the decision. "This is good news. That story was like Mercedes suing BMW for making an SUV. The ban never concerned France, but we can now focus on something more constructive."