"Zodiac carries the DNA of French pioneers and explorers and we want to continue on this market. Innovation is the basis of our development and our boats are efficient. A performance linked to tests, but also to people's perception" explains Dominique Heber-Suffrin. It is in this sense that Zodiac has launched a new slogan Keep Exploring (continue to explore) and is working on the development of new products, such as avon's eJET Concept or the FlyingRIB project with SEAir, a semi-rigid foil.
"With this new baseline, we want to show that we continue to explore, we must do things for our customers and position ourselves as a player in tomorrow's boating
"We want to regenerate the Zodiac brand by targeting the milleniums. We launched the connected box, invested in a configurator, renewed the Pro and Open ranges, relaunched the inflatable range, optimised our Toulouse factory to design the Anonym Sup paddles made of Drop Stitch (NDRL: Zodiac Nautic was the forerunner in the 90s of the use of this material for the inflatable floors of its boats) using an exclusive 100% welded process,"clean" without glue or solvent" added the Group's Chairman.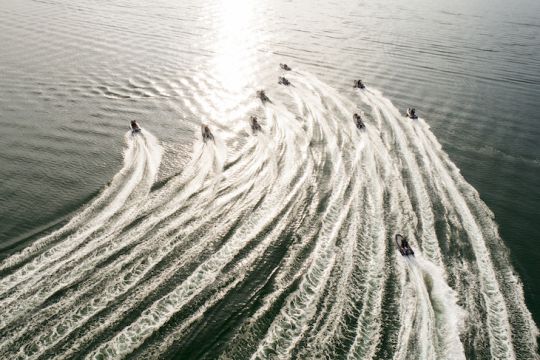 Demo Days Zodiac © HocusFocus
Giving back its letters of nobility to flagship products
On the occasion of the brand's 120th anniversary - at the Nautic 2016 - Zodiac presented a reinterpretation of the Mark II Heritage an iconic 70's canoe-style tire "https://media.boatindustry.fr/boatindustry/28495/innovation-semi-rigide-zodiac-2.jpg" details the CEO. The boat will be visible for 6 months on the 6th floor of Printemps Haussman in Paris.
Mark II Heritage Nautic 2016
Two of the brand's iconic ranges have also been"../../../src/images/news/articles/0e1f6370fc325ea1d9a4e51cd2ca8c22.jpg" Pro (semi-rigid à la carte) and Open,"540" boats, multi-activity The Open 7 is launched in Scandinavia in February 2017 and the Open 5.5 has just been launched at Crouesty during the Demo Days at the beginning of June 2018.
The Pro range modernized and presented at the Nautic 2016
Testing new technologies
In July 2017, Zodiac was chosen by SeaAir - a company specialising in boat theft - to carry out the FlyingRIB a 5.5 m semi-rigid with retractable and adjustable foils. A partnership that saw the birth of the first flying semi-rigid.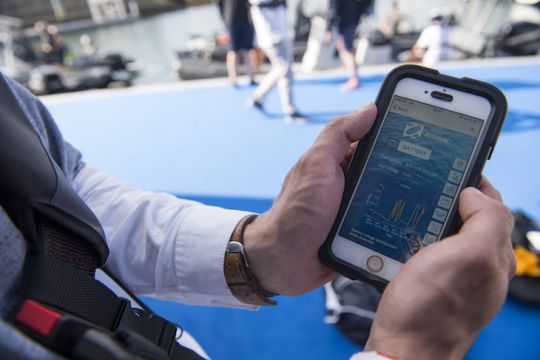 Seair Zodiac
Getting up to digital time
The connected Zodiac Bateau allows boat owners to obtain a lot of data via a GPS beacon: location, safety, navigation, control, boat condition, maintenance..
The Zodiac Configurator - launched at the end of 2017 - allows you to configure your Zodiac Pro according to your programme, to choose its colour, deck layout and many options. A service that has now resulted in 20,000 configurations.
Expand and energize its offer
Zodiac Nautic acquired Anonym SUP in April 2018, French specialist in inflatable paddles, and thus wishes to offer a diversity of products related to water sports.
My Zodiac Concierge mobile concierge service dedicated to boaters and water sports enthusiasts in partnership with Wiidii
My Boat Club Demooz: Propose tests for future buyers, directly with the owners via the Demooz platform, which allows you to try a product at a private individual who already owns it.