An electric concept boat
Avon, the semi-rigid brand of the Zodiac Nautic group specialising in yacht tenders, presented a new concept boat at the Cannes Yachting Festival. The prototype, developed in collaboration with the engine manufacturer Torqeedo, is a 4.5 m semi-rigid, with jet propulsion and electric motorization. It has a range of 1.5 hours and a maximum speed of 26 knots.
Industrialization is to be carried out by the Cannes 2018 show, during which the first Avon electric jet-tenders will be available for sale. The model will be available in lengths of 4.5m, 5m and 5.5m.
Security and maintenance
Electric propulsion brings many advantages to the yacht tender slot. The absence of highly flammable gasoline in the tender garage limits the risk of fire, odours and simplifies logistics. Maintenance is easier to perform on board and less messy. Finally, the user benefits from the silence, while having a high engine torque.
The rotational speeds of the jets and electric motors also make it possible to do without a gearbox.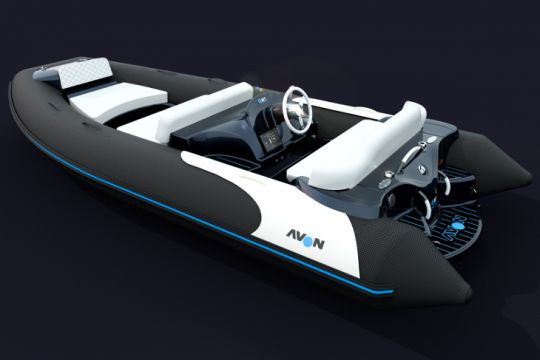 A winning partnership
The managers of Zodiac Nautic and Torqeedo, Dominique Heber-Suffrin and Christoph Ballin, were delighted with the work carried out, as dedicated teams had been set up on both sides. "This is a very interesting new market segment for Torqeedo," says Ballin.
Towards all-electric power by 2018
Dominique Heber-Suffrin, President of Zodiac Nautic, tells Boatindustry of his commitment to electric propulsion. "Electricity is not a fad. In the jet tenders segment, electric motors will not be optional, they will replace internal combustion engines in the Avon range."