Genesis
Zodiac Nautic was born in 1896, through the French Society of airships and aviation balloons Zodiac, specialist in the production of airships. Pierre Debroutelle, one of the Group's engineers, invented the inflatable boat in the 1930s. Initially designed for naval aviation - which was looking for easy and innovative boats for military transport -, tyres opened up to pleasure in the 1960s. The boat then became popular and also accompanied many explorers, like Jacques Cousteau.
Redemption and reminder
In a difficult period, Zodiac Nautic was acquired in July 2015 by three entrepreneurs, including the current CEO, Dominique Heber-Suffrin. The Zodiac Nautic Group has 4 brands :
Zodiac the group's most important generalist and universal brand
Bombard the simple, reliable and economical brand
Avon Marine the premium brand dedicated to large yachts (yacht tenders) using electric propulsion
Aka Marine the brand of professional and military boats.
Since its takeover in July 2015, Zodiac has carried out a major renewal of its flagship Pro (semi-rigid à la carte) and Open (semi-rigid Swiss Army knives) ranges, an operation that is now part of the Zodiac Group's strategy "successful" for the French semi-rigid brand, as explained by its CEO, Dominique Heber-Suffrin.
"Since the recovery, we have revisited the fundamentals (production, marketing...) by modernizing and launching new models. It was a big risk since the Pro and Open brands were known all over the world. We've come back to balance, which we haven't had for 11 years." he adds.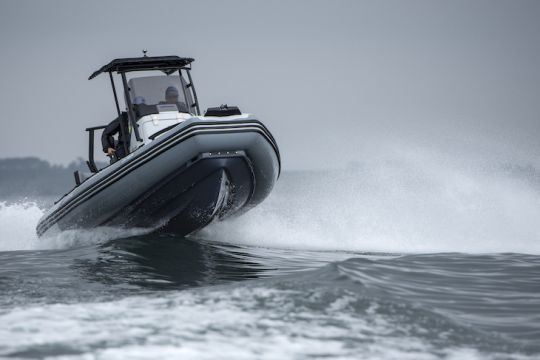 Bombard is the group's low cost brand, a bit like Skoda in the automotive world. Here the objective is the quality/price ratio. "" explains Zodiac's CEO. Bombard is distributed worldwide, even in Australia.
Avon uses jet propulsion and electric motorization "360" adds Dominique Heber-Suffrin.
The target group with this"https://media.boatindustry.fr/boatindustry/28494/semi-rigide-zodiac-2.jpg" brand are owners of superyachts, who love"" and who are looking for a"540" product, allowing them to go into areas inaccessible by yacht.
Aka Marine is intended for the professional and military market. These are products dedicated to security, border security, etc. The range consists of flexible and semi-rigid boats "360" develops the president of Zodiac.
Zodiac Nautic is the universal brand of the group with a range of boats for yachting as well as professionals "The brand is coming back for a more environmental approach and has launched a full electric annex Avon Ejet . We signed a partnership with the yachting brand San Lorenzo and we are optimistic about the renewal of this brand. Avon was among the first to innovate with jet propulsion and had lost its technology in 20 years, doubled on the market by Williams Jet Tender. The brand reappropriates its place, but with an electric distinction. This is a technology that we will have to use on Zodiac"../../../src/images/news/articles/d5099492515665d9cc25413562c77d18.jpg"https://media.boatindustry.fr/boatindustry/28494/semi-rigide-zodiac-3.jpg">
Open 5.5
The production
Today, the Zodiac Nautic Group is present in 90 countries through a network of 1600 sales and service outlets. The group employs 400 people throughout the world, but mainly in France.
Ayguevives: group headquarters, production and logistics. It is here, near Toulouse, that the inflatable boat production plant is located
Pessac : R and D, SAV. The research center near Bordeaux hosts 3 engineers - against 15 at the time - and has received many investments for 3 years.
Sèvres : EMEA sales department, marketing
Summerville, South Carolina (US) with a factory and a sales and marketing department
Enfidha, Tunisia: PVC RIB production plant
Ho Chi Minh, Vietnam: APAC Sales Department. The market is boiling and needs to be developed.