Acquisition of majority control
The Marck group, owner of the semi-rigid manufacturer Sillinger, is to sell 70% of the capital to Future Mobility Solutions Limited (FMS Ltd, formerly Sea Legs) for ?2.1 million. 1.5 million will be provided in cash and 600 000 € in shares on the New Zealand market at NZ$0.25.
Subject to validation of the agreement by the shareholders and the regulatory authorities, the sale should take place before the end of March 2017.
The semi-rigid Made In France
The Sillinger brand, founded by Tibor Sillinger in 1962 and based in Mer dans le Loir et Cher, is renowned for its know-how in the production of robust and high-end semi-rigid products. Mainly active in the military and security markets, it also offers a yachting range. Bought in 2000, Sillinger was today the only naval activity of the Marck group, specialist in textiles and uniforms for armies and administrations.
Sillinger had a turnover of ? 4.3 million at 31 December 2015. 7 sites in France and 1 in Tunisia produce the brand's boats.
Sea Legs, the amphibious boat
Future Mobility Solutions, is the new name of Sea Legs, purchaser of Sillinger. The company, based in Auckland, New Zealand, is built on a system of retractable wheels, making it possible to make amphibious boats ranging from semi-rigid to small intervention boats. Sea Legs now offers its own range of amphibious boats for boaters or professionals.
In March 2016, Sea Legs had sales of NZ$18.5 million, of which 20% was OEM sales for other projects.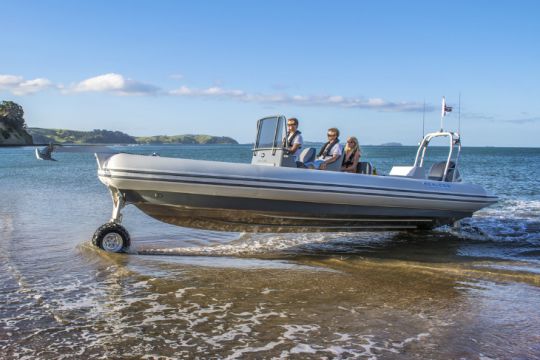 Complementarities in pleasure boating?
Sillinger and Sea Legs are active in complementary markets. The French brand has a very good reputation in the professional field but is not very present in yachting. On the contrary, Sea Legs has carried out numerous projects for individuals and offers various sports boats. Sillinger's yachting business can therefore be expected to benefit from synergies.
In parallel with the acquisition of Sillinger, Future Mobility Solutions should take control of the South African semi-rigid manufacturer Gemini. The new geographical coverage of the group will thus benefit the 3 brands, thanks to the historical locations of each.