Alumacraft Aluminum Boat Buyout
The Canadian BRP Group announced the acquisition of Alumacraft on June 28, 2018. Based in Saint Peter, Minnesota, the shipyard, founded in 1946, specializes in the construction of aluminum recreational fishing boats. It employs more than 250 people at two sites in the United States and has a network of more than 275 dealers worldwide. The terms of the transaction have not been made public.
Creation of BRP Marine Group
Following the takeover of Alumacraft, BRP announced the creation of the BRP Marine Group. The new entity will combine the Evinrude outboard brand and the recently acquired shipyard. It will be led by Tracy Cocker, Evinrude's Vice President and General Manager. Both companies will retain their independence.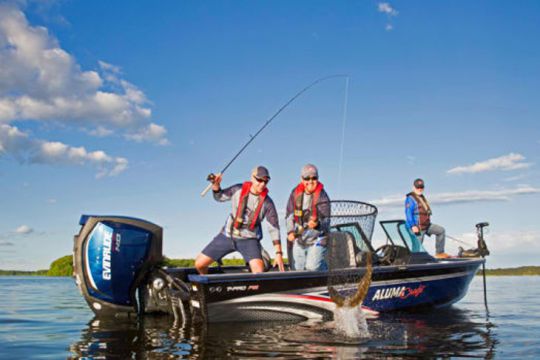 Alumacraft Boat powered by Evinrude
A global strategy in yachting
A specialist in Rotax brand engines, the BRP group had already diversified and verticalized into its other outdoor activities with brands such as CanAm all-terrain vehicles or Ski-Doo and Lynx snowmobiles. In the boating industry, the SeaDoo jetskis complemented the Evinrude outboards in a nearby area. With the acquisition of Alumacraft, BRP begins an evolution comparable to that carried out for its land products.
"This acquisition is a natural first step for our newly created Marine Group. In the short term, we will focus on optimizing the network to leverage the strengths of our two product lines and gradually strengthen our presence in the industry. We really want to transform this industry and do with marine activity what we have done in motorsports," says José Boisjoli, CEO of BRP. He sets the goal at the highest level. "Together, we will build our Marine Group to achieve our goal of becoming a leading marine company."
The route chosen by BRP is reminiscent of the Brunswick Group, today the world leader in yachting. Built on the basis of the marine engine manufacturer Mercury, the company has grown by gradually taking over various yacht builders. While the share of outboard engines is growing strongly, this strategy is being adopted by other manufacturers like Yamaha and could attract new ones. From supplier, engine manufacturers could become masters of the game...