Can you explain us how the Lite XP sailing oar boat project was born?
Mathieu Bonnet : The Lite XP was born from my participation in the Race To Alaska race during the summer of 2016. This event, in the footsteps of the pioneers of the great American North, links Port Townsend in Washington State to Ketchikan in Alaska, for a distance of 1200 km, between the islands. It is reserved for boats without motor. I had initially considered competing only in rowing with a Lite-Race model, but the length of the stages and the expected performance required to relieve the rower. So I called on Sam Manuard, with whom I had already worked on my classic rowing boats, to design a sailing boat adapted to racing. We had arrived at a trimaran, with whom I took part in the race. Since then, we have reworked our boat to make it more suitable for the public.
What is the Lite XP program?
Mathieu Bonnet : We wanted a rowing sailboat that would outperform the existing offer. We needed a boat that was more balanced than the Race To Alaska boat and could accommodate two people on board. The trimaran option used for the race was abandoned for cost reasons and we returned to a light monohull of only 165 kg. With a balanced sail plan, it is perfect in light airs.
What clientele are you targeting?
Mathieu Bonnet : We're looking for people who want something easy. The Lite XP is easy to launch, easy to maneuver... Even I, who have little sailing experience, sailed this summer in the Stockholm archipelago without any worries. We are not aiming for a purist in rowing or sailing, but rather for a touch of everything in sport.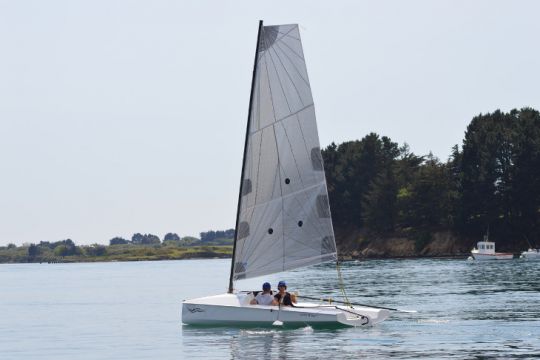 Industrially, how do you integrate the Lite XP into your classic rowing production? What are your objectives?
Mathieu Bonnet : Today we are 9 people for rowing and I want to recruit a dedicated team for the Lite XP. The production will take place in a 700 m² space specifically reserved for the Lite XP. It will start once the first 6 boats are pre-sold. The infusion, made in France, requires a minimum of volume.
My personal goal would be to reach 100 boats sold in 5 to 7 years. We'll see if my gut checks out.