4 new brands at Marçon Yachting
The Marçon Yachting dinghies distributor Marçon Yachting, based in Martigues, has announced the signing of agreements for 4 new brands of boats. The company is now importing the ILCA Olympic singlehanded dinghy, the Fusion and the Maverick into France. It also markets the semi-rigid boats AVA Ribs. Although it is no longer collaborating with Laser Performance, it continues to distribute Hobie Cat and Bic Sport.
Staying in Olympic Sailing
Marçon Yachting was distributor since 1973 of the Laser brand for Performance Sailcraft, then Laser Performance. It ended this contract in 2020 following the loss of the construction licence for the Olympic class by Laser Performance . "It was important for us to stay in the Olympic competition market where we have been from the beginning. We are now working with Performance Sailcraft Australia, the only builder today to have an Olympic class licence. The boats are sold under the ILCA name," explains Sandra Marçon, manager of the company.
Expanding the supply of dinghies
While the relationship with Laser Performance could be complex in terms of finance and spare parts management, the end of the contract frees Marçon Yachting from the exclusivity clauses on light sailing. "The Laser range was partly ageing and the manufacturer did not want to invest in renewing it. The market has evolved with the strong development in recent years of RS Sailing or Topper, and we couldn't keep up. Now, we have been able to work with the two engineers, former Laser engineers, who developed the Maverick and the Fusion. We now sell our first Maverick to private individuals, or as a toy for yachts," Sandra Marçon is delighted to say.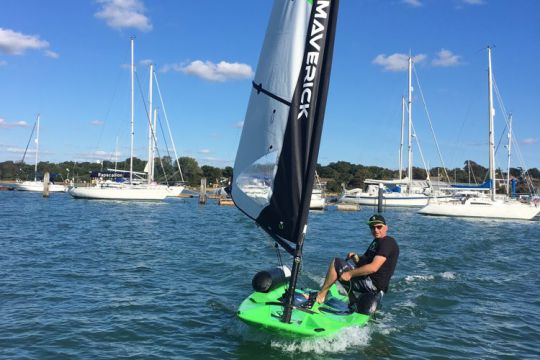 Preparing for Marseille 2024
Accustomed to renting complete solutions, including dinghies, trailers and accompanying boats to international regatta teams, Marçon Yachting is also getting ready for the Olympic sailing events planned in Marseille for the Paris 2024 Olympics. The distribution of Polish AVA Ribs semi-rigid boats, adapted for use by sailing coaches, allows the company to have all the elements of the offer in its catalogue. "From next year on, we're going to see the national teams arrive and it was important to be ready," concludes Sandra Marçon.