Bénéteau Group acquires a majority stake in Delphia Yachts
An agreement was reached on 12 July 2018 between the Bénéteau Group and the owners of the Polish shipyard Delphia Yachts. It provides for the French group to acquire an 80% stake in the capital through a Polish structure. The envisaged amount of the transaction has not been disclosed, but the closing of the transaction, subject to authorization, is expected before Nautic 2018, according to a spokesman for Bénéteau Group.
A major player in European water sports
Created in 1990 by the Piotr brothers and Wojciech Kot, Delphia Yachts has become in 28 years one of the main boat builders in Europe. It has built more than 25,000 boats since its creation, and launched 40 models of sailing, river and sea motor boats for pleasure boating. In addition to its own brands Delphia, Sportina and Escape, the acquisition of the Swedish sailboats Maxi Yachts, the company is known for its subcontracting work for many European and American yachting groups, including the Bénéteau group. In 2017, Delphia Yachts posted an operating profit of ?2 million and a turnover of ?30 million for 670 employees.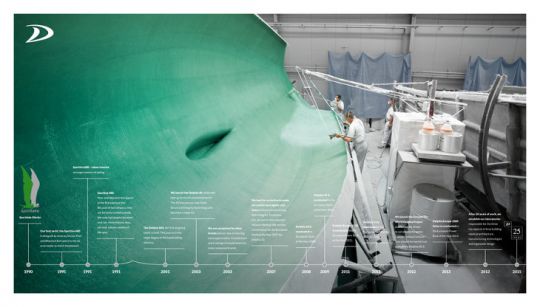 Valuable boat production lines
By acquiring Delphia Yachts, the Bénéteau Group acquires an 18,000 m² production site in Poland, a European country with an affordable workforce experienced in the manufacture of pleasure boats. The deal, which has been under negotiation for a long time, comes at the right time for the Vendée-based manufacturer, which has to consider solutions to meet the 25% European taxes on its American brands Four Winns, Glastron, Scarab and Well Craft. It offers itself the possibility of relocating to Europe and secures an already important subcontractor for the Jeanneau brand.
Continuation of the reconquest of small sailboats
The acquisition of Delphia Yachts strengthens the Bénéteau Group for the production of outboard motor boats and small sailboats. Polish sailboats complete the recent acquisition of Seascape on the small cruise market, oriented towards sports sailing.
Delphia Yachts also allows the Vendée group to open up to river cruising, a booming market in which it is absent, apart from a few communication operations around the Swift Trawler 30.
Scandinavian and Eastern European market
The brands of the Delphia group, recognised in Eastern Europe and Scandinavia, open up additional markets for the Bénéteau group, in regions where its competitor Bavaria, in difficulty, has a strong presence.