The High Tide yard launched the Django 7.70 number 50. A great commercial success for this small site. After a mini series, in 2010 the shipyard launched with the architect Pierre Rolland to propose a simple and easy sailboat.
From the launch, the 7.70 received a good return from the public and the following year it was elected sailboat of the year.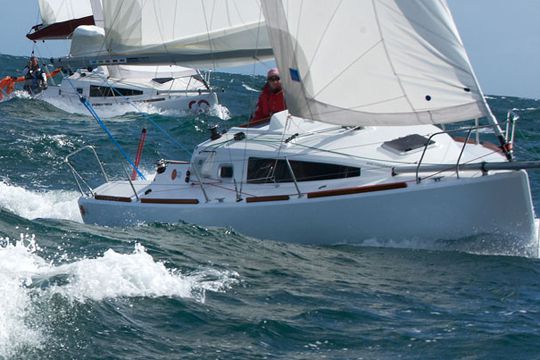 Originally offered in double keel, it is now also available in fixed keel and lifting keel versions. But currently 90% of sales are in skeletons. Only performance lovers choose the keelboat. In this version, the sailboat weighs 250 kg less (1600 against 1850 kg for the keel). This gives a more nervous sailboat, but also less stable, especially downwind.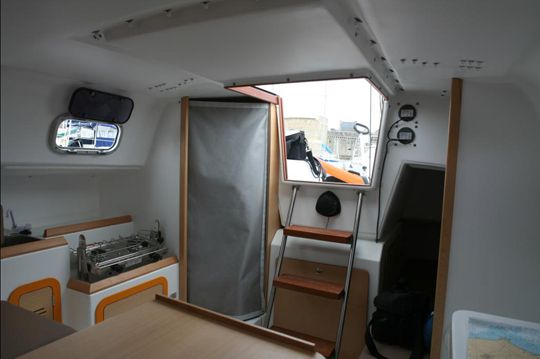 Between the n°1 and the n°50 few changes were made on this well born model. One will note details on the bridge as the suppression of the rails of genoa with the profit of a point of textile adjustable in 3D or of the modifications of sheet hoist of GV. The removable forestay is also made of textile, adjustable from the piano.
The owners' demand has also evolved towards more comfort and more options. Today, this sailboat, which was originally offered with an optional toilet, is regularly ordered with a hot water tank.
The facilities have also been a little rethought. A version where the chart table is removed and replaced by a toilet is also very popular. Some also use the large starboard trunk as a second aft cabin.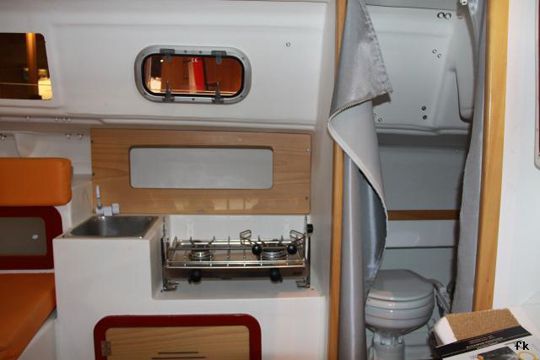 Approved in category A, with a large livable volume, powerful and easy to make work, the Django 7.70 does not have much competition on the current market what makes that it undoubtedly holds its place as well. Sales continue to grow on this model which does not seem to be aging.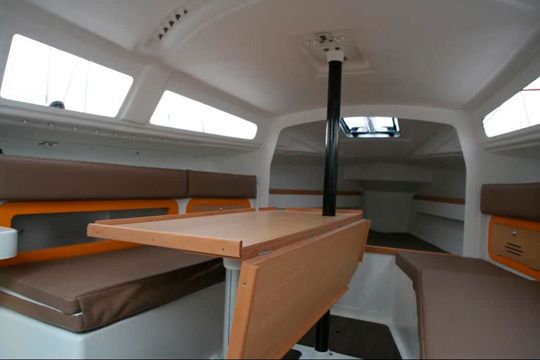 Proposed at 80 000 € TTC for a boat ready to sail (with sails and electronics), this sailboat remains a bit the Swiss Army knife of pleasure. That's probably why we often see him sailing on the lake?