Water sports companies are lining up for the Tour du Finistère sailing race
One of the specific features of the Tour du Finistère à la voile is the existence of a special ranking for so-called "company" crews. Any vessel where more than half of the seamen on board work in the same company can claim the title. Several companies related to the boating and yachting industry supported a sailboat in the category. Crédit Agricole du Finistère and the Marée Haute shipyard explain the interest of the operation for their companies.
Enhancing Crédit Agricole's position in the Glaz Economie
Crédit Agricole has been involved in sailing sponsorship for decades at both local and national level, and this is not its first Tour du Finistère. "The Crédit Agricole Filière Mer project is 6 years old and this is its 6th Tour du Finistère, the first with our new skipper Alain Barazer," explains Stéphanie Tiphaigne, head of the Filière Mer project at Crédit Agricole du Finistère. "It's hard to be a sailor when there's farming in the name. The Glaz shows that it is possible and promotes the Glaz Economy."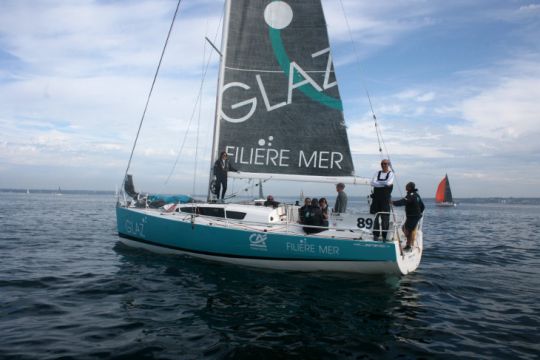 Company cohesion
In addition to external communication, company crews are tools for internal cohesion and business development. At Crédit Agricole, the crew is made up of a service provider skipper and half of the directors and employees. "I can count on a pool of around thirty people to be 8 on the water every Sunday," explains skipper Alain Barazer. "On top of that, we do in-house initiation to bring young people on board and we sometimes take customers on board. The JPK 10.80 is a good regatta-performance compromise, still accessible for beginners."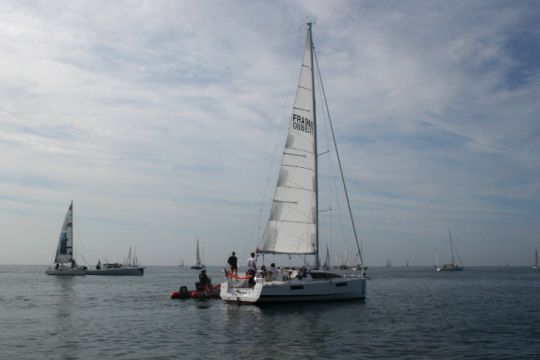 Re-open High Tide to regatta
For its part, the Marée Haute de Trégunc shipyard also has a commercial objective behind the Tour du Finistère 2019. The crew, consisting largely of company employees, was sailing on a Django 9.80. "The yard was born with the regatta and the Mini 6.50, but it has moved away from it. Our goal on the Tour du Finistère is to show the capabilities of the Django 9.80 in the race. To show that you can have fun, even if the boat was not designed for that at the beginning, but for the cruise. On the first stage, we were also able to take on board 2 interested prospects," sums up Serge Calvez, site manager.