The IDB Marine - High Tide Suspended Fusion
The two Finisterian shipyards IDB Marine and Marée Haute, located on the same Minaouët site in Trégunc, near Concarneau, had announced in the autumn of 2018 their intention to move closer together. A new structure, equally integrating IDB Marine, Marée Haute and the BFR group, a minority shareholder of the latter and owner of the industrial site, was to be created at the beginning of 2019. As summer approaches, the accumulated delay has led Denis Bourbigot, head of IDB Marine, to throw in the towel. "Summer is coming and we have a lot of work to do, especially with the Mini. The objective was January and in May, it's still not done. It's taken too long."
Discrepancy between the financier and the construction of the boats
Denis Bourbigot explains the situation by cultural differences between the 2 shipyards, especially in the administrative and financial areas. "We've done a lot of operational work, in terms of the shipbuilding process. Also in the choice of the products by comparing the ones we used, for what reason and at what price. For this, we didn't need the financiers. As for the human aspect, before, we used to look at each other as if we were toy dogs between the shipyards, today there is a really good atmosphere on the site. We're better at infusion than fusion!"
Nevertheless, the leader highlights the positive aspects of the last few months. "That's not the subject with the summer, but we always keep a plan B. As for the merger, the door is not slammed shut."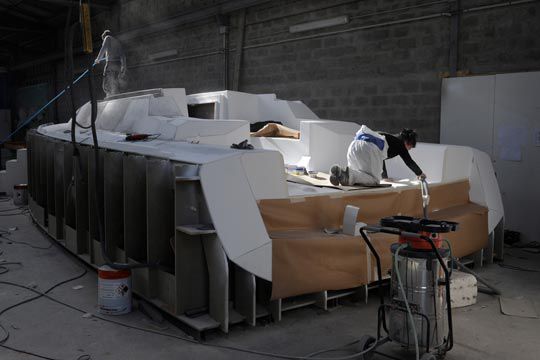 No IDB Marine relocation in the immediate future
IDB Marine's Maxi 6.50, the new production Mini Class yachts, are a success, while Mojito and Malango yachts are still seducing yachtsmen. The favourable commercial situation is encouraging the company to invest in more modern vessels. In its unfortunate plan to take over the Minaouët site, which was eventually sold to the BFR group, the shipyard planned heavy modernisation investments. The current owner's lower level of ambition could push IDB Marine to move.
When contacted, the Marée Haute shipyard did not respond to our requests.