From boat sales to wintering
A partner in Marine West for several years, Clément Poujade left the company to take over the Bénéteau de Lorient concession in 2014. He bought it from Jérôme Caillaud of La Baule Nautic, one of the biggest sellers of the Vendée brand and developed it under the Atlantic Yachting label. In November 2018, he joined forces with the workshop manager, Vincent Fresnais, to acquire the Kernevel Nautic shipyard in Larmor-Plage. "It was a coveted company. I had a good relationship with Mr. Dubois (editor's note: the seller) which allowed us to take over the shipyard," explains Clément Poujade. The combination of Atlantic Yachting and Kernevel Nautic allows the entrepreneur to accompany the yachtsman from the purchase of the new boat to its maintenance and wintering.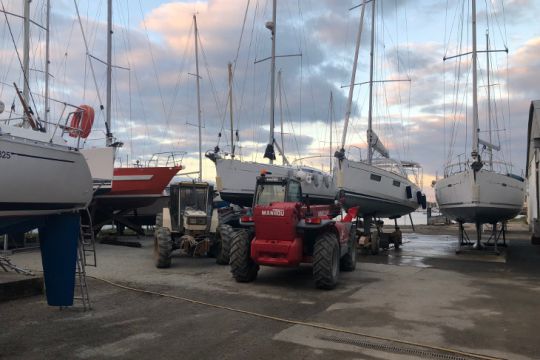 Shipyard Kernevel Nautic
Boat sales and premium support
Atlantic Yachting, located near Lorient La Base, has the Bénéteau, Zodiac, Rhéa Marine, Monte Carlo and Suzuki dealer cards, as well as the new Excess catamarans. The company sells about sixty boats per year, including more than 40 new units. It employs 6 people all year round. "We position ourselves as a dealer with premium support," says the manager. For this purpose, the agency has been renovated, with a friendly reception area furnished with sofas and an indoor showroom to display small open and semi-rigid units. A corner dedicated to the Excess brand has been set up. A large stock on the platform and the fleet of the concessionaire and customers in the ports of Lorient make it possible to present almost all the offer of the yards to customers.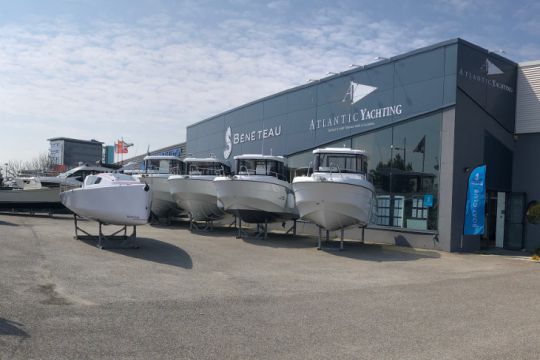 Atlantic Yachting Concession

A shipyard with services
Ideally located near the marina of Larmor-Plage, Kernevel Nautic has a total surface area of 1 hectare and more than 3,000 m² of covered buildings. The new owners intend to give the site a new dynamism. "We want to give it a new dynamic and complementary services from the dealership," explains Clément Poujade.
A 200 m² USHIP store should open soon. The hiring of a marine mechanic to reinforce the team of 4 people, allows the development of remotorizations. The creation of a slipway and the acquisition of a Parklev trailer make handling easier, in a context of overcrowding in the resources available in Lorient. The site also has a paint booth.