After some reflection on the "Voile Avion" project (an 18-foot hydrofoil catamaran with tilting mast that was developed from 2011 to 2016), the idea of launching a sailboat accessible to all to allow people to start sailing on hydrofoils was born.
Befoil's adventure took shape at the beginning of 2017 in Lorient. The architecture firm VPLP is mandated to design a 16-foot freestanding catamaran when it is on its foils. The specifications require a simple, accessible and safe sailboat that can seduce sailing schools.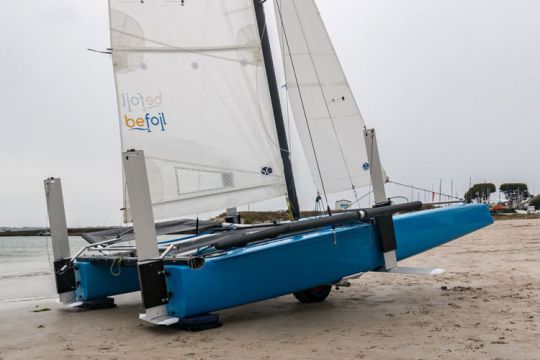 There is no question of seeking speed and performance. For this reason, the hulls of Befoil are made of rotomoulded polyethylene (a heavier material than polyester, but very solid and widely acclaimed by sailing schools). The foils are made of aluminium for reasons of cost and strength.
To fly and remain stable, the Be-foil always remains on 4 points. The 2 T-foils on the front beam and the flaps on the rear rudders. The flight must be simple. For this purpose, the foil flaps are controlled by 2 sensors at the front of the hulls which manage the trim of the catamaran. It is the same system as found on foil Moth boats. And it works!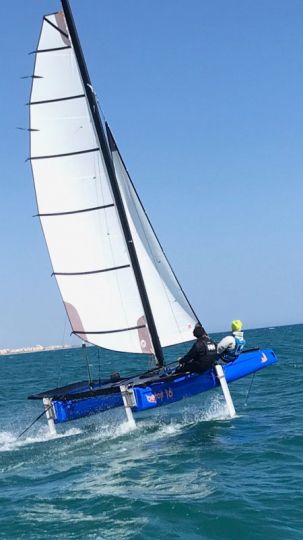 The prototype's navigations show that from 10 knots of wind for a light crew (12 knots with 2 adults), the Befoil takes off if you sail with a crosswind. And this with just a jib and a mainsail (without gennaker). The maximum speed of the sailboat is around 20 knots. Still to avoid complicating navigation, this catamaran is not equipped with trapeze, but only with ladders to rappel.
First copies delivered in May 2019
The first copies are in production for delivery from May 2019. A first series of 20 boats is ordered. The hulls are manufactured at Rotomod, the aluminium parts will be extruded in the Tours region and the boats are assembled at Erplast in Hennebont. Today, the manufacturer Befoil has 5 employees and one person in work-study training.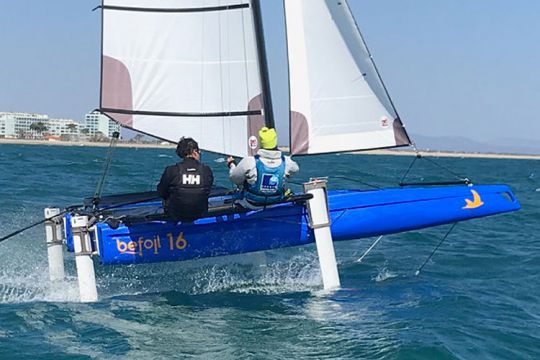 Befoil is sold for ?19,990 ready to sail. That's twice the price of a 16-foot rotomolded sports catamaran. But for this price, the user can have the pleasure of taking off or using his catamaran in classic mode. Indeed, the foils and rudders can be dismantled very quickly and replaced by classic sabre daggerboards if the wind fails. It remains to be seen whether this dual use will attract sailing schools at this rate?