The autumn boat shows were an opportunity for BoatIndustry to meet Stephan Constance, President of Grand Large Yachting. In this final part of the interview, the leader of the French yachting group explains his industrial projects, his development axes and the human resources challenge.
After having reviewed the main Grand Large Yachting pleasure boat brands, how would you describe the general situation of the group?
I think we had a period after the crisis when some signals were green and others orange. Today, they are all going green. What is important is that we have a more system than brand approach. We sometimes have clients who come to one site and are sent to another if we have identified that it is more in line with their navigation program. Today, we no longer sell boats, but slices of life, hence the importance of services, such as technical training and the entire Grand Large Services offer.
What are the group's industrial projects?
We have an expansion planned in Cherbourg by the end of 2019. This will be done thanks to a Temporary Occupation Authorization of the port on a site adjacent to the Allures site.
What are the current synergies within the group?
Purchasing is now organised in a transversal way within Grand Large Yachting. Synergies cover all support functions, from purchasing to administration and international sales management. As mentioned, the 30 members of the design offices can also be mobilized together on a single project.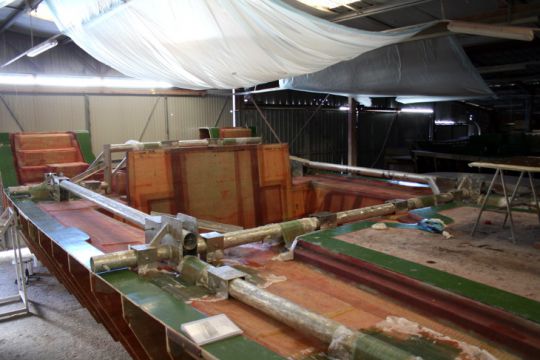 What about recruitment?
Today, all Grand Large Yachting shipyards are recruiting for all production positions as well as for the design office. There are about fifty hires in progress at Gunboat. The production professions are the most tense in terms of recruitment difficulties.
To conclude, after the integration of Gunboat, do you envisage any further acquisitions in the current context of consolidation in the nautical industry?
We're opportunists. We are not preventing ourselves from external growth, but it is not a strategic priority for Grand Large Yachting. There must be real synergy and consistency with the group.