Adrena releases a software dedicated to cruising
Adrena, the leading provider of offshore routing solutions, has announced the release of new software dedicated to leisure and travel navigation. Called Octopus, this new "ready to sail" product offers new functions developed for boaters such as mooring assistance or a mode that takes into account the use of the engine. It will be presented at the Nautic in Paris and marketed from 1 March 2018, opening a new market for the Breton company.
Monaco Marine will open 2 new sites
Monaco Marine will expand its network to 8 sites in 2018. A second project of 40,000 m² onshore and 14,645 m² offshore is scheduled to open in La Seyne sur mer in 2018. Designed to accommodate yachts up to 55 m, it will have a lifting capacity of 500 T and represents an investment of ?15 million. The possibility of an extension for mega-yachts up to 140 m in 2019 is already under study.
Monaco Marine will also set up in Marseille in 2018, with an offer identical to that of La Ciotat. With a 320 m dock, two 250 m² workshops and an area of 8,700 m², the site will be able to accommodate very large yachts.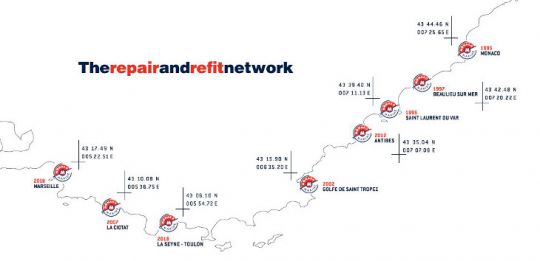 Navico enters Bavaria's home
The Navico group, owner of the marine electronics brands B&G, Simrad and Lowrance, has announced an exclusive partnership with the Bavaria shipyard. The new yachts in the Bavaria range will benefit from the B&G Zeus 3 plotters and H5000 instruments, while the engine range will be equipped with Simrad products. The shipyard's boats will also benefit from the connected technologies of Naviop, another brand of the group. Bavaria previously worked with Garmin.
Nanni Diesel equips the Seventy de Lagoon
CNB - Lagoon chooses the French Nanni Diesel engines for the Seventy range. Already on board the Seventy 7 sailboats, the brand equips the new Seventy 8 motor catamarans with two N13,580, John Deere based equipment, marinated in La Teste en Gironde.
L'Atelier Interface is moving
Antoine Mainfray and Atelier Interface left Camoël for St Médard d'Aunis, near La Rochelle on October 9, 2017. The naval architect will continue to design and build small single boats and composite parts. It now has offices and a 110 m² workshop.