You have just launched the first motor boat in the history of the Pogo-Structures yard, the Loxo 32. How was the project born and what is its positioning on the market?
Christian Bouroullec : It is about a project which germinated in 2012, at the time of the 2nd crisis which particularly struck the nautical sector. Sailing yacht production has fallen sharply both globally and nationally. We therefore wanted to work on a diversification to ensure the operation of the site. Fortunately for us, we haven't been too affected by the crisis on our range of Pogo yachts and the project was therefore longer than expected, finally taking 4 years effective. This development is based on the yard's own funds.
Beyond diversification, we wanted to test a market not yet exploited in cruising: a well equipped motor boat, without frills, light with small engines allowing a low fuel consumption and an average speed of about 11 to 12 knots. This is the specification for Loxo 32.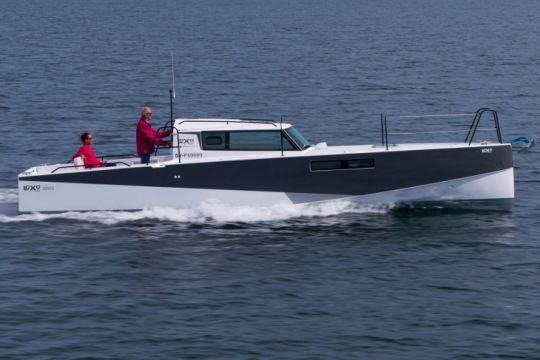 Loxo 32
What are the first returns and how do you see the future of the motor boat at Pogo Structures?
Christian Bouroullec : The boat will be presented to the public at the Grand Pavois and in Düsseldorf. Initial feedback is already positive. Now you need orders to confirm it. If the boat finds its public, we can think of a range of motor boats at Structures.
On the yacht side, how are the orders divided between racing and pleasure? What are the most popular models?
Christian Bouroullec : The ocean racing range, consisting of the Mini 6.50 Pogo 3 and the Pogo Class 40, represents 10 to 20% of the turnover, which amounts to 8 M € in 2016. The rest goes to the fast cruising range, composed of the Pogo 30, Pogo 36, Pogo 12.50 and Pogo 50. Even if some owners do amateur racing like the Transquadra on board, they are above all cruising yachtsmen. The effect of novelty is important and the Pogo 36 is today the most requested sailboat, the delivery time being about 2 years. The Pogo 30 is also continuing, with 100 boats sold.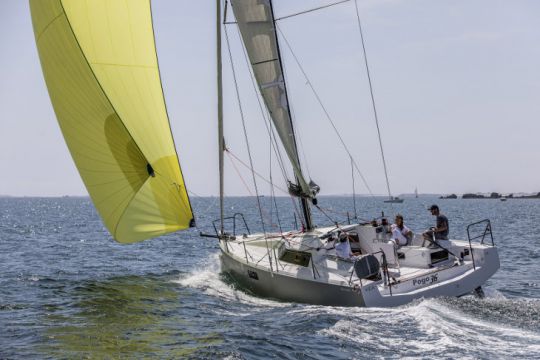 Pogo 36
How do you adapt industrially to demand? Are there any production tool development projects?
Christian Bouroullec : Today, we juggle between different models to adapt our production to orders. We currently release a Pogo 36 every 3 weeks.
With the development prospects of the company, we are working on the construction of a new building on a new plot of land nearby. Between the construction and training of new employees in more than 75 current employees, it should be operational within 2 years. We try in any case to remain flexible for the individualization of our customers' boats, taking from the industry only the organization.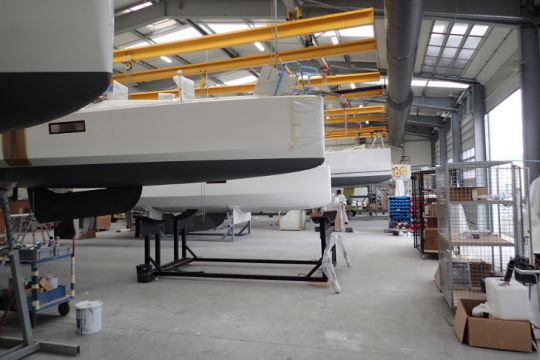 Shipyard Pogo Structures