An extreme race made for him
As we mentioned in our article on Liteboat, Mathieu Bonnier is an adventure lover. He already has a transatlantic race and a Northwest Passage to his credit. What could be more normal for him than to embark on the Race to Alaska or R2AK adventure, a 1200 km race without assistance and engine linking Port Townsend in Washington State to Ketchikan in Alaska? The first edition of 2015 showed the extent of the possibilities combining sailing and rowing.
A boat specially designed for R2AK
Faithful to his accomplice naval architect, the owner of Liteboat called upon Sam Manuard to design a sail and oar boat adapted to the race. Although he had initially considered competing only in rowing with a Lite-Race model, it soon became clear that the length of the stages and the expected performance required to relieve the rower. For this, the addition of a sail was necessary.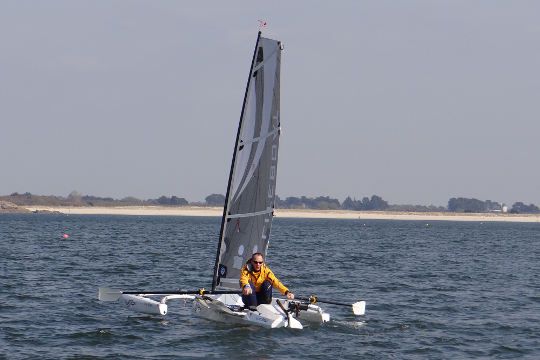 In order to obtain the necessary stability, lateral floats are added to the Race Bed, in front of the swim bench, so as not to hinder propulsion. It now has the stiffness of a trimaran.
A shelter to sleep in
The race lasting several days, the sailor will have to sleep. For this, he can set up a tent on a trampoline 50 cm wide. A comfortable shelter that it will deploy on land if the weather conditions are too harsh. Indeed, with a weight lower than 100 kg, complete arming, the boat can be reassembled on a beach.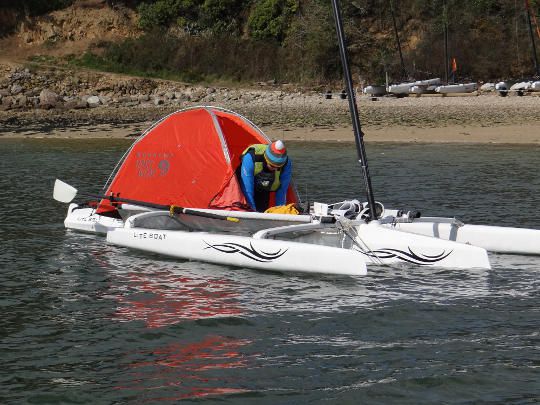 Objective 10 knots
Equipped with a North Sails wardrobe composed of a 5.3 m² mainsail with horn and an 8 m² gennaker, the boat must reach 10 knots according to its skipper. A novice sailor, Mathieu Bonnier sees it above all as a way to relieve the rower.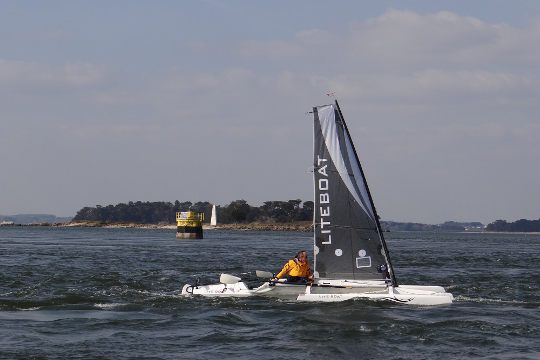 Main Features
Length: 6m
Width: 2.80m
Total weight: 100 kg
Mainsail: 5,30 m²
Gennaker : 8 m²
Central drift and rudder
Tent shelter
What future for the Lite XP?
Asked about the future of the Lite XP, Liteboat's boss explains that it is initially an operation to promote the brand in the United States and a personal adventure. However, if enough potential customers declare themselves to make moulds, the design of a model inspired by the Lite XP is possible. The issues of budget and ability imply a slightly different conception. Notice to amateurs...