The Billie Marine shipyard in mourning
Pierre-Marie Bernard, founder of the Billie Marine shipyard and a leading figure in Breton yachting, died of a heart attack. A naval carpenter, he was at the head of the shipyard based in Hennebont on the banks of the Blavet. He worked there with 2 other "team-mates", his partner Gaëlle Flahault and Yann Kerneur, a specialist in carpentry and marine maintenance. The technical site set up with his partners on the banks of the Blavet, called "Plaisance d'Esprit", also houses Sébastien Magnen's Voilerie Rouge and Fred Lebrun's company Fred Soudure.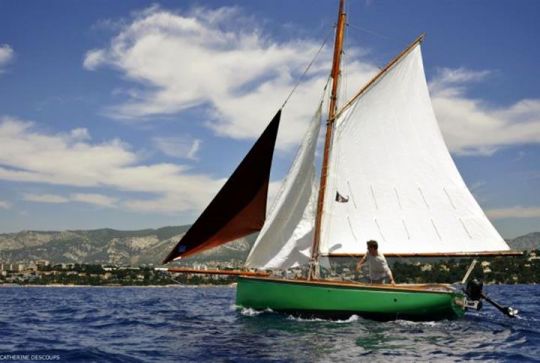 From the Carantec cutter to the Billie series..
Trained in traditional marine carpentry at the Sibiril shipyard in the Bay of Morlaix, Pierre-Marie Bernard created his first shipyard in Morlaix at the age of 24. He became known there thanks to a cutter from Carantec named Billie Jane. These traditional boats, with composite hulls, acquired a good reputation. The Billie Marine shipyard develops, but a problem at a boatyard converting a moulded wooden launch puts the company into bankruptcy, despite an order book that still exists. Pierre-Marie Benard then reopens a shipyard in Saint-Philibert and restarts production of Billie Jane, while preparing racing yachts and carrying out maintenance and servicing work. Other traditional yachts were offered alongside the Billie Jane: the Quetzal, the Courlis or a Cormorant based on Jean-Yves Sévellec's design.
In 1998, the site moved to Hennebont, on the Blavet upstream from Lorient. Pierre-Marie Bernard began the construction of the Billie Charlotte, of which the fleet counts about ten examples. Having become an importer of Multi 23s, the shipyard no longer builds many new boats. Pierre-Marie Bernard's latest innovation, with the architect Olivier Petit, the Billie Twin's, an ingenious removable plywood tender, attracted the eye of visitors to boat shows.
The team of Bateaux.com and BoatIndustry.com sends its condolences to his loved ones and salutes the memory of an endearing character met in the events of yachting.