Launch of Leen Trimarans
The Neel Trimarans shipyard, specialist in sailing cruising trimarans, continues its development. Launched in 2009, the shipyard from La Rochelle has earned its reputation through the production of sailboats and employs 118 people, with a projected turnover of 20 million euros in 2020. At the Boot 2020 in Dusseldorf, he announced the launch of a new range dedicated to motor boats. The Leen Trimarans will be intended for long distance cruising. The first 2 models will measure 56 and 72 feet.
Continuing the experience started with a one-off trimaran for Corsica
Neel Trimarans had already delivered in 2019 his first motor multihull. It was a one-off project, based on a Neel 47, without mast. The Rochelais shipyard had responded to a request from a Corsican hotel, looking for a stable platform to welcome its customers, as we had presented in these columns . The experience reinforced the yard's perception of the needs of the yachting market. "It's the fruit of a year and a half project. This brings the seakeeping and safety of a trimaran and a very low consumption, less than 2l/mile. Our architect, Bernard Nivelt, convinced us that we should go. With the success of the sailing trimaran, there's bound to be an outlet for the engine" explains Eric Bruneel, the founder and manager of the Neel Trimarans shipyard.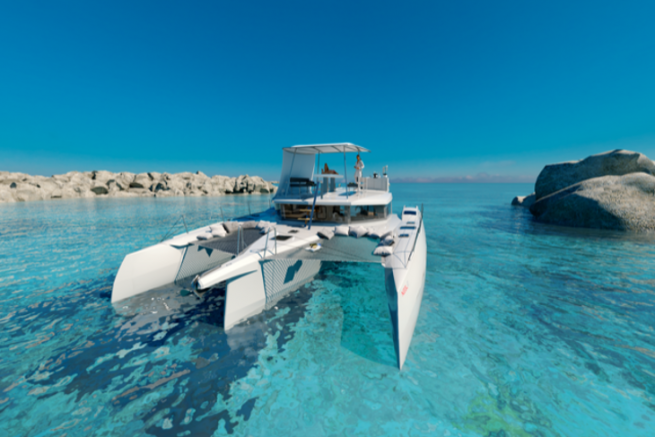 A travel boat
Leen Trimarans positions itself in the successful niche of the travel boat. Low fuel consumption, safety and high habitability are the arguments put forward by the manufacturer, which intends to find its place in a growing niche. The 72-footer will come standard with sufficient diesel capacity to cross the Atlantic on its own. "Today we are the only motor trimaran in series" claims Eric Bruneel.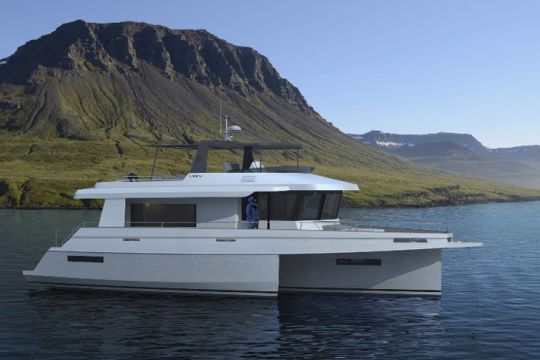 Use of TechniYacht Pinta know-how
Neel Trimarans takes advantage of the experience of its former subcontractor for the launch of its motor boats TechniYacht Pinta, acquired in 2018 . He is also the builder of the Day One day charter catamarans. The hulls of the Leen Trimarans will be built on site, using the same method of flat infused composite panel assembly.
Delivery in 2020
Construction of the 1st Leen 56 is scheduled to begin in the spring of 2020 with delivery expected at the end of the same year. It is intended for the client of a Neel Trimarans sailing yacht, convinced by the new offer.