A trimaran dedicated to wellness care
The Neel Trimarans shipyard in La Rochelle has just delivered an unusual boat. This new multihull is dedicated to wellness care. It will be operated from the 2019 season in southern Corsica, near Porto-Vecchio by the 4-star hotel Le Pinarello.
Created on the basis of the Neel 47 sailboat, this new unit has no mast. It is a motor trimaran. The engine has been slightly reinforced. "We went from the 60 HP usually installed on the Neel 47 to 75 HP, at the customer's request, even if it was perhaps not essential," explains Barbara Bruneel, in charge of communication at Neel Trimarans. The living spaces have been preserved, while a care area has been set up on the fly deck, entirely free of the rigging of the standard boat. The fittings are replaced by a massage table and a bar.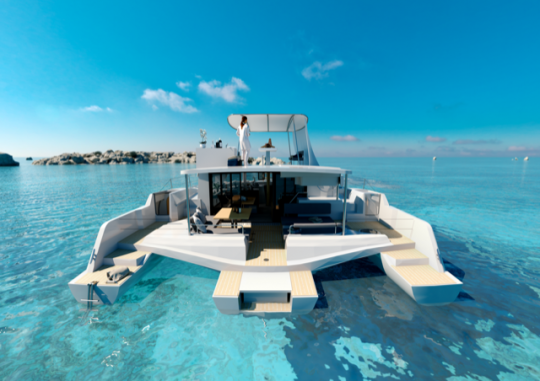 A massage and wellness area on the fly deck of the Neel 47 for the Pinarello hotel
A customer seduced by the trimaran concept
"It was an idea of the manager of the hotel Le Pinarello. He was seduced by the boat's habitability, its openness and ground-level design with the concept of a cockloon (Editor's note: total opening of the rear window which joins the cockpit and lounge) and above all the stability of the trimaran at anchor, which is not found on any other boat," says Barbara Bruneel. The boat should mainly be operated at rest in the bay in front of the hotel. The owner is considering extending his offer to include nights on board and escapades.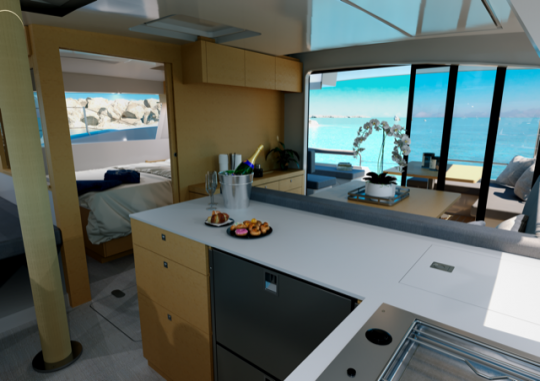 The interior of the Neel 47 has been preserved
The Neel Trimarans site carried out the entire customization project for the owner. For the future of this type of atypical boats within the rocky nautical company, Barbara Bruneel is cautious without hiding her satisfaction with the work accomplished. "We have responded to this specific request that seduced us. But there is no series production motorboat planned to date. For now, we're staying on this one-shot."