A family business
Located in Hennebont, the Nauty'Mor site is located on the banks of the Blavet River a few miles upstream from Lorient.
Historically, Nauty'Mor is a storage and wintering yard for racing boats created in the early 2000s to meet the need for storage of 60 feet ORMA boats. The teams were looking for hangars for the maintenance and repairs of these large trimarans.
Nauty'Mor, opened its doors in 2001, under the impetus of Guy Beaudart and his son Davy, both passionate about sailing and competition. In 2003, thanks to an available outdoor space, Davy Beaudart decided to extend the wintering activity to local boaters.
With a minimum investment, the father and son began manufacturing a Parklev-type water outlet trailer to start the business.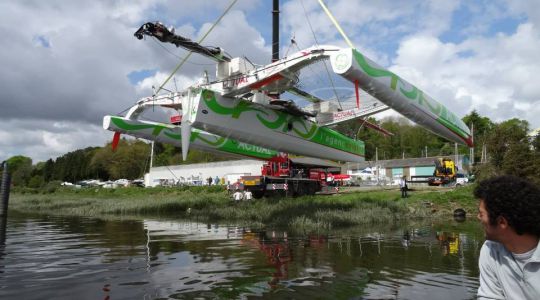 The offshore racing virus
Davy Beaudart catches the ocean racing virus and practices the Mini 6.50 with assiduity which leads him to paint, repair and prepare for these small racing cars.
This is how a new market opened up in Nauty'Mor and Davy, which took over the entire family business. In 2007, the yard acquired a second building to accommodate more racing boats.
In 2013, Davy Beaudart invested in the manufacture of a very large painting cabin (15 m long, 6 m wide and high).
Thanks to this technical investment, it is the beginning of a major boat painting business for Nauty'Mor. In his cabin, he receives Mini, but also Figaro and Class40 requiring careful preparation.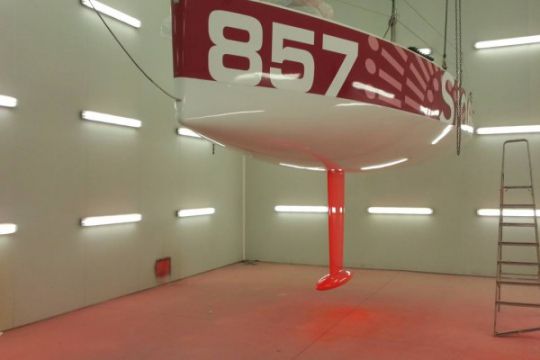 The Nauty'Mor project in figures
There are three distinct activities: storage and handling, maintenance and repair, and ship painting, which has become their specialty. While Davy Beaudart works alone all year round, he recruits two or three freelancers in winter, the painting season.
The company has a recent hydraulic berth for the exit of monohull and multihull sailing boats. A crane is available for larger units. A stem is used for matting and dismasting operations.
Boats are stored in an outdoor park with an area of 8,000 m2 or in indoor buildings with an area of 1,600 m2.
Today - in 2019 - Nauty'Mor's turnover is broken down into two main items:
30% of storage and maintenance,
70% of the naval paint.
The activity has been growing strongly since 2011, with turnover doubling.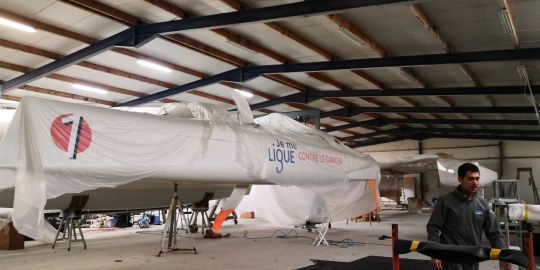 Who are Nauty'Mor's customers?
For the storage part:
Its privileged location on the Blavet makes it an ideal wintering spot for local boaters, who often do their own work.
For the painting part:
Close to the training base of Lorient Course au Large, Davy has captured 3/4 of the Mini fleet, but also other riders or teams: Figaro, Class40 and some IMOCA as Initiative C?ur. He recently worked on the 60' hull of Stephane Le Diraison.
And when the boats are too big, Davy goes to chantiers?!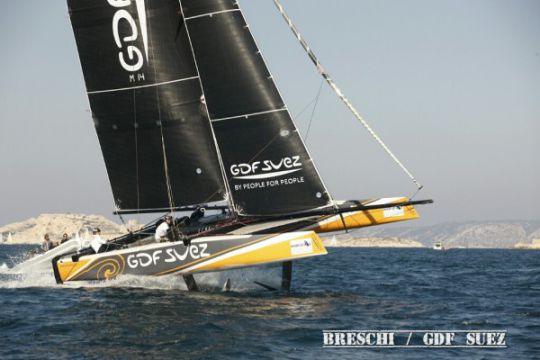 A speciality in painting, hull varnish
Davy has built a solid reputation for hull preparation and has developed a know-how around the application of an antifouling varnish for hulls, the Top Clean.
Initially used in urban areas, this anti-graffiti varnish is very hard and hydrophobic. Desired benefits for racing boats:
Unlike a classic single-colour antifouling, the top clean allows you to personalise the vivid works (you can extend the sponsor's colours and messages under the water).
This varnish offers exceptional gliding qualities at the price of regular sponge cleaning (weekly).
Many racing boats are equipped with them: Mini, Class40, but also Ultims like the trimaran Macif.