The first recyclable semi-rigid
In 2016, Arkema was involved in the construction of a Mini 6.50 prototype whose hull and deck were made entirely of Elium® thermoplastic resin, by infusion of carbon fibers. In 2019, after a meeting at the Paris Boat Show in December 2018, the Breton company Ouest Composites - the parent company of the Pro Marine semi-rigid boatyard - has just used this same resin to make the infused hull of one of its professional models, the Manta 550. The objectif?? Produce the first recyclable semi-rigid.
A good opportunity for Arkema, which wanted to produce a semi-rigid from its Elium thermoplastic liquid resin. This prototype will also be used as an assistance boat for the Multi50 Arkema.
"In the boating industry, the recyclability of products is a real issue that concerns both boaters and professionals alike." explains Jean-Denis Bargibant, Managing Partner of Ouest Composite.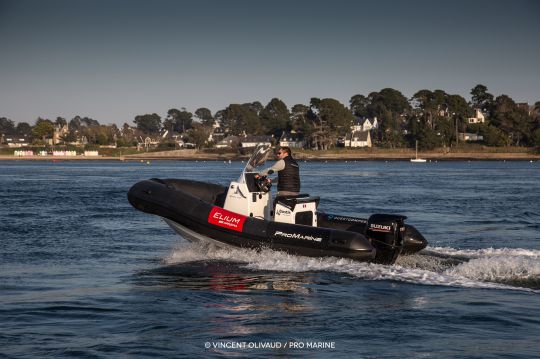 A resin that can be recycled
Elium, unlike polyester resin, is therefore recyclable in two different ways:
Mechanical recycling The hull is separated from the floats to be cut, crushed before being melted. The thermoplastic composite that emerges is then mixed with another virgin material (ABS, PC, PVC, etc.) to form a new material.
Chemical recycling By heating the composite part, it will be possible to decompose it into gaseous form. These gases will then be distilled to obtain a base used for manufacturing of a new Elium resin.
"The mechanical properties of the resin are identical to those of an epoxy resin, i.e. superior to polyester", explains Ouest Composites. The Elium resin, was used for stratification with the infusion method or the contact method (for smaller parts.)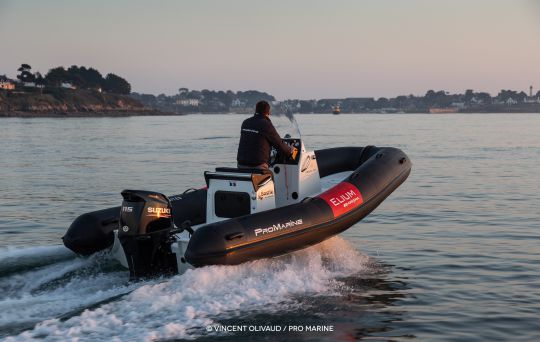 A range at venir??
For the three partners - Arkema, Bostik and Ouest Composites - the results are positive. "Elium resin is a process that works well in infusion." explains Damien Harlé, Manager of Ouest Composites.
The realization of this prototype of a thermoplastic semi-rigid could also give ideas to the French company, as explained by the manager who would like to be able to produce all his hulls made of recyclable resin within five years.
"This is one of our objectives as a French shipyard concerned about the well-being of the planet. On the other hand, when selling a boat, we are now obliged to apply a recycling quota of 45 ? for boats under 6 m. It is therefore only logical that we would like to find a solution in the future to reduce waste" concludes Frédéric Bulleon, sales representative of ProMarine shipyard.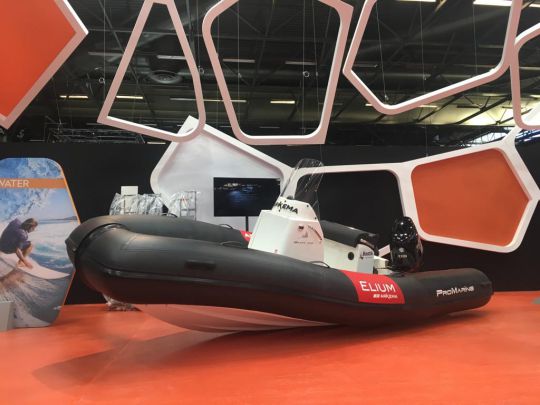 Presentation at the JEC World 2019