Continuing growth
Pro Marine was born 25 years ago from the technical expertise of its parent company Ouest Composites, which today employs a hundred people. After developing professional and recreational rigid hull boats with the Belone range, the company started manufacturing semi-rigid boats in 2010. They now represent 90% of the yard's activity. "We knew how to take the right turn at the right time," says Frédéric Buléon, the brand's sales manager.
Well established in the Atlantic basin, Pro Marine now wishes to tackle the Mediterranean in order to continue this fine evolution. A new boat was thus necessary,"which represents a big investment for a small shipyard" says Frédéric Buléon. It should enable the company to increase its production from 40 to 60 boats per year.
Helios, a boat for the Mediterranean
The existing Manta range, positioned as a"family and adventurer" is perfectly suited for use in the Channel and the Atlantic. "It lacks comfort for the Mediterranean, where the yachtsman generally spends all day on board, in the absence of nearby islands. That's why we're launching Helios, a boat more equipped to fight against typical Italian semi-rigid boats," says the Pro Marine sales manager.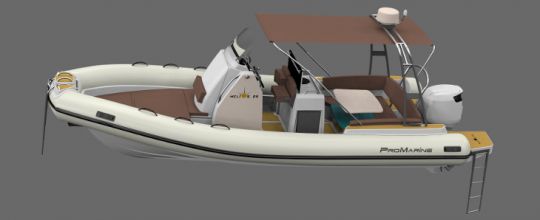 Helios 25 from Pro Marine
A boat optimized for tax purposes
Helios studies are carried out in-house by Pro Marine. From the design stage, the brand paid particular attention to the regulatory aspect. "The objective is to stay below 7 metres, while providing the comfort of 8 metres, to allow tax exemption," explains Frédéric Buléon.
The Helios 25, the first model in the range, will be presented at the Nautic 2016. Like all Pro-Marine motorboats, it will be manufactured 100% in France, including tubes made by a French subcontractor. It will have a kitchen, toilets and a large sunbathing area.
If Pro Marine already has a good network of dealers on the Atlantic Channel coast, it must now find dealers in the Mediterranean. Since the Dusseldorf Boot 2015, the brand has been distributed in Spain, the United Kingdom and Croatia. It will therefore continue this work in the coming years to distribute the new Helios range optimally.