Elium, recyclable thermoplastic resin
In 2016, the Mini 6.50 Arkema was the first boat to benefit from the Elium recyclable resin, developed by Arkema. The chemical company based near Bordeaux, sponsor of Team Lalou Multi, specialises in innovative construction adhesives and products.
Unlike resins generally used for composites in the nautical industry, such as epoxy, which are thermosetting, Elium is a thermoplastic acrylic resin, therefore post-formable. At the end of the part's life, the resin can be recovered and reused, making it recyclable, a major difference compared to competing thermoset materials.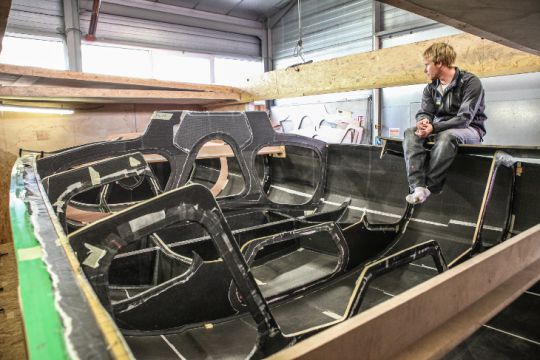 Mechanical characteristics similar to epoxy
Compatible with glass and carbon fibres, Elium makes it possible to produce parts with mechanical characteristics comparable to those made of epoxy, far from those of conventional thermoplastics such as ABS. The use on an ocean racing monohull, intended to cross the Atlantic, will validate its performance over time.
Collaborative R&D
Tested on a float front of the Arkema Multi 50 for demonstration purposes, the Elium resin had not been used on large infusion parts before the Arkema Mini 6.50. It took Arkema's chemists and the Lalou Multi team a year to work together on the hull and deck of the monohull, the bulkheads being made of epoxy resin. Very sensitive to the presence of air, good control of Elium catalysis is delicate, particularly in infusion. Dozens of test pieces were tested over 8 months in order to characterise the material and determine the correct method of application before infusing the hull.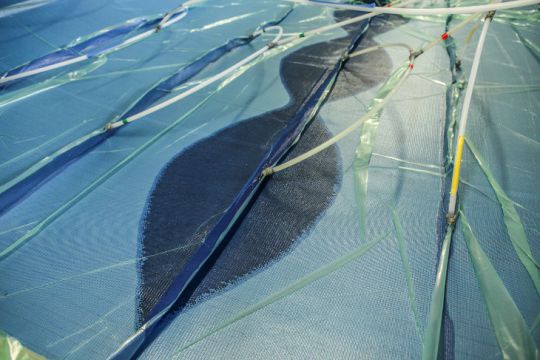 Infusion of the Mini 6.50 Arkema hull
Lalou Roucayrol is delighted with the project with Arkema. "All the research conducted by Arkema and Team Lalou Multi has enabled us to go beyond the skipper-sponsor relationship. This is a real collaborative R&D operation. "
New market for Arkema
Arkema is very active in the automotive market and has a good knowledge of the processes used in this sector. This makes the Elium very suitable for the RTM Eco and series production of parts. Less familiar with the methods used in boating, the company was able to confront the Mini 6.50 project with other implementations and prepare for new markets. No doubt the example should make small...