The Bénéteau Group alongside Neoline
The French leader in the construction of pleasure craft took advantage of the SITL 2019 Transport & Logistics Innovation Week to support the Neoline project. The latter aims to open a transatlantic transport line on sailing cargo ships between Saint-Nazaire, the American east coast and Saint-Pierre and Miquelon. Ro-ro ships equipped with tandem rigging will take Bénéteau brand sailing and motor yachts dedicated to the American market on their loading decks. Neoline is expected to start operating the line in 2021.
A logistical interest for the Bénéteau Group
The Bénéteau Group finds in the Neoline offer a service corresponding to its logistical needs for its boat exports to North America, which represent 30% of its turnover. Mirna Cieniewicz, Head of Communications, is delighted with the partnership. "We now use regular lines from Le Havre, Antwerp, Zeebrugge and sometimes La Rochelle, with exceptional road transport to northern Europe. What we liked about Neoline was having a regular offer from Montoir de Bretagne, which limits our transport plan and to Baltimore, a port that Bénéteau already uses. Neoline ensures us the same logistical lead time from one port to another. In addition, it is a haute couture project, where we are a strategic shipper, unlike traditional shipowners. This allowed direct work with Neoline on the ship's characteristics."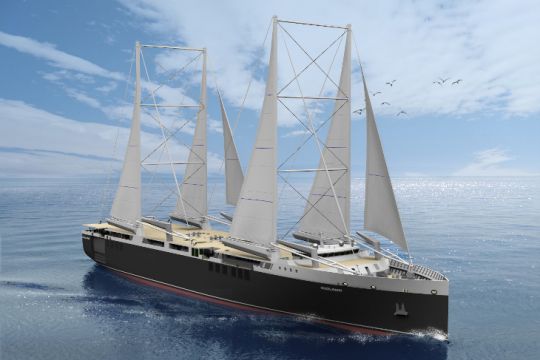 Future Ro-Ro Neoline (DR: Mauric)
The vessel will be able to accommodate the entire range of sailing and motor pleasure boats produced in the Vendée, including the Prestige 680 or catamarans. The Bénéteau Group's Bordeaux production is outside the Neoline field.
Theoretical construction of sailboats from September 2019
The ship remains theoretical to date, but the partnership with the Bénéteau group has been the subject of a letter of intent. "This is important because our first Renault partner was a long-term commitment to the project on other lines after the pilot line from Montoir. Together with Manitou and the Bénéteau group, these are regional shippers who are world champions interested in our pilot line. This is an argument in the ongoing fundraising efforts," explains Jean Zanuttini, Neoline's CEO. Negotiations are underway with the manufacturer for the launch of production of the 1st sailboat in September 2019.
There are many announcements in the field of freight transport under sail. The investment for vessels the size of Neoline (136 metres) is significant. Some historical players, who are in favour of cabotage, doubt the maturity of the market. So go back to 2021 to see if the letters of intent are turning into real operational ships.