Resumption of the distribution of Weta trimarans in France
The Weta trimarans, small sports multihulls, had not been distributed directly in France for 3 years. Paris Voile put an end to the situation in August 2018 by taking over the map for France from the sailmaker's brand. The brand has a unique model, designed in New Zealand and built in fibreglass sandwich with carbon beams. It measures 5.80 m overall, with a hull length of 4.40 m and a deployed width of 3.50 m. Weta's fleet in France consists of approximately 160 boats.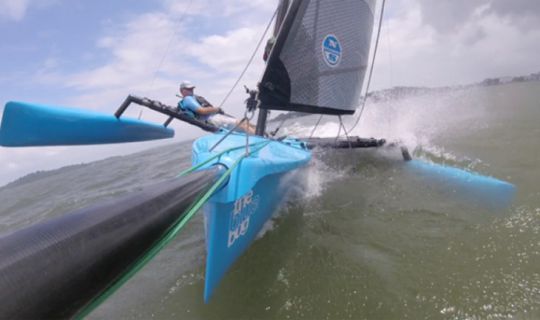 Rediscover national visibility in light sailing
Paris Voile has a historic place in the light sailing world in France, but had lost its strength in the 2000s. For Pierre-Jean Gallo, manager of the Paris Region company, the distribution of Weta is part of a strategy to return to the national market. ""https://media.boatindustry.com/boatindustry/29906/trimaran-voile-legere-paris-voile-2.jpg"540" The class is happy to find a distributor well anchored in light sailing. The yard had asked us for company names to take over the distribution of the trimarans and we suggested Paris Voile. This is a logical relationship given that many Weta owners were already Paris Voile customers for other boats. In addition, the class was already in contact with Paris Voile for its group purchases. SI HUGO A R?VÉ SON ÉCUME DE MER POUR PARTIR EN GRANDE CROISIÈRE, CELA NE L'EMPÊCHE PAS DE NAVIGUER SUR D'AUTRES VOILIERS. IL NOUS FAIT VIVRE AUJOURD'HUI DANS CET ÉPISODE, LA PARTICIPATION AUX VOILES DE SAINT-BARTH. POUR CELA IL INTÈGRE UN ÉQUIPAGE QUI PARTICIPE SUR UN J/122 (UN VOILIER DE COURSE-CROISIÈRE DE 12 M).