Concentrating activities in Pont-l'Abbé
When he bought the former Léon Gléhen shipyard in 2004, Arnaud Pennarun named it the Pors Moro shipyard. The site, which hosted the construction of steel and wooden fishing boats up to 24 meters, is completely refurbished. Unfortunately, its desire to extend the site locally ran up against administrative difficulties linked to the timeshare ownership of the adjoining land. Arnaud Pennarun then decided to create structures in other Breton cities, in Lorient, Quimperlé and Le Guilvinec. While the dispersion of the sites does not facilitate the work, an agreement was finally reached with the State and the city at the end of 2017, opening the way for the regrouping of all activities and the expansion of the Pont-l'Abbé site.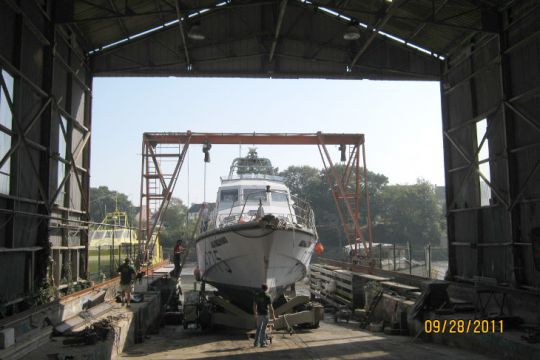 Water outlet at the Pors Moro shipyard
Doubling the floor area
"The works represent an investment of nearly ?1 million. A new joinery will be built. The available floor space will increase from 4,200 m² to approximately 9,000 m². The covered space available for work will be 2,000 m²," says Arnaud Pennarun. Work, which will begin in the spring of 2018, should be completed by the end of the year.
Autonomous for handling, the site can get out of the water and accommodate in its sheds boats of up to 200 T displacement.
Merger of companies
Legally separated, the Pors Moro shipyard in Pont-l'Abbé and the Keroman shipyard in Lorient will merge into a single company by December 2018 to manage the unique Pont-l'Abbé site.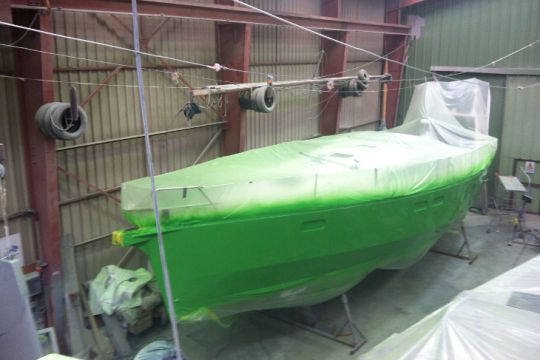 Painting at the Pors Moro shipyard
Aluminum Specialist
The skills of the site are multiple. Specialist in painting, active in the maintenance and refit of large yachts, ensuring the maintenance in marine mechanics, having a workshop of joinery and skills for new composite lamination and for repair, the company is versatile. "We have developed a real know-how in painting, especially on aluminium. We paint all the Boréal sailing boats," says Arnaud Pennarun. This subcontracting activity in the yachting sector will particularly benefit from the advantages of the new site for its development.