Damien Cailliau and Frédéric Blandin bought the site he created in Lorient in 1999 from Sam Marsaudon in January 2018. The first, the majority shareholder, takes over the general management of the company, while the second is responsible for marketing and human resources management. Marsaudon Composites employs 50 people and had a turnover of ?5.5M at 31 December 2017.
You have just taken over the Marsaudon Composites project. Can you present us the paths that led you to this acquisition?
Damien Cailliau: We are both from the seaside, but our professional lives had taken us away from it. As far as I was concerned, my taste for space gradually took over from my interest in the sea. I have worked in the space industry, at NASA and in European agencies, managing contracts, with technical and managerial aspects. Being a program manager is like running an SME. My speciality is mainly technology and production. At one point, I wanted to get closer to the sea. After meeting Frédéric via friends, we decided together to work on the takeover of a company by the sea.
Frédéric Blandin: For my part, I have always kept a link with the sea. I was born with sailboats at the bottom of the garden and I have family in the French Navy. I did the classic Optimist course at JOD 35, then I ended up sailing only occasionally for fun, work taking me to places where the sea was not nearby. After many experiences in large international express transport companies in positions of sales, marketing or human resources manager, I created my consulting company for SME owners. That's when I met Damien.
How did the choice of Marsaudon Composites come about?
Damien Cailliau: Very quickly, in our discussions with Frédéric, the choice to take over a shipyard in the nautical sector, and particularly in sailing, appeared natural. So we went fishing. The opportunity came that Sam was in the process of thinking about giving up his project. There was a real human encounter with Sam and Mary. Adhering to his project, we decided.
What will Sam Marsaudon's role be in the future?
Damien Cailliau: Sam is taking the helm, but he will continue to help us with navigation! There is at least one year left to assist us and bring us his expertise in catamaran construction, his knowledge of the sector and his links with the people in the profession. It will be a kind of associate consultant for a transfer of skills, with joint projects.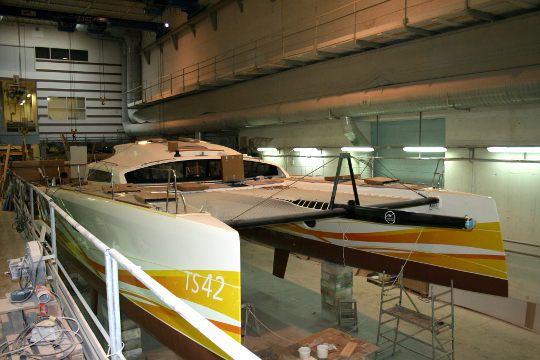 What are your projects for Marsaudon Composites?
Damien Cailliau: Sam Marsaudon started a very beautiful story. Our goal is to continue it. He felt a little limited to support the development of Marsaudon Composites. With our experience, we can do it. There is potential in the capacity of the site, the teams and the market. Everything is working well and we are becoming more and more known.
First, our strategic line is to better integrate the TS Catamarans brand into the landscape. You have to be known and seen. Today our customers come to us through the informal network. We will review our trading system to reach more people and expand geographically.
We obviously continue the white label boats and the production of composite parts and moulds which are an essential aspect of the business model developed by Sam. It is a logical and relevant balance.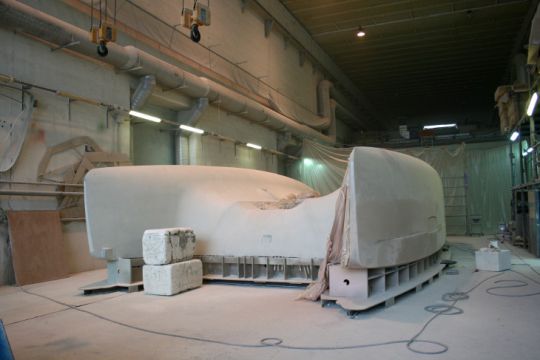 New boats in the pipeline?
Damien Cailliau: The TS5 is off to a great start with 6 boats already in the fleet. We must succeed in this launch as well as that of TS3 which is approaching and continue the momentum of TS 42. Then there are obviously projects, but that is not the priority.