Famous folding trimarans and 100% Danish
Dragonfly is one of a range of 4 folding trimarans: 25, 28, 32 and 35 designed for offshore sailing and equipped with the"Swing Wing" system. This system makes it possible to retract the hulls and reduce the width of the boat by half for the 25 and 28 (the two smallest models) which thus pass in road gauge (2.54 m wide).
Dragonfly are made to order and 100% built in Denmark, and are recognized for their performance "They go faster than the wind! " says Julien. They sail mainly in the Atlantic and Mediterranean and rather widespread in England and Germany. The best-selling model is the Dragonfly 28, the model "Swiss Army Knife." of Dragonfly," for family cruising, clever and transportable and capable of beauty and with an inverted bow in the Performance version" says Charlotte. A boat sold about 200 000 ? TTC.
"The program of these boats is to find a closer contact with the sea. Dragonflys offer real sea sensations. They are light, powerful and easy to use. For example, to retract the arms, simply pull on one end and the mechanism engages itself." charlotte explains.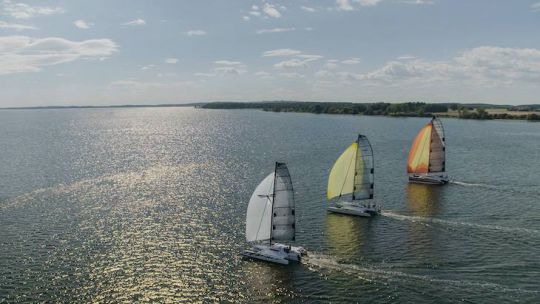 From a personal boat to French import
Charlotte and Julien were then in charge of communication and sales in France for a large nautical group and wanted to buy a personal boat. Their choice is a Dragonfly 28 Performance "This is the best trimaran ever! He benefits from the 50 years of experience of Quorning Boats, often compared to the luthier of the nautical industry. But when we wanted to buy this boat, we had trouble finding a contact in France. So we approached the Danish shipyard, which explained to us that it had some difficulties to undertake with France. We then went there, met the yard management and fell in love with the boats!" says Charlotte. Then came the desire to resume the French import of the brand.
But... They may be passionate, but they are no less thoughtful.. "We had to ask ourselves the right questions and weigh the pros and cons... We were executives in the high-volume industry and we had to leave our comfort for production on demand... But we were quickly convinced of the quality of materials, the superb performance of Dragonfly and especially by the interesting projects to come in the next 5 years" continues Charlotte.
They left their company at the end of November 2017 to create Hello Multi, the commercial company that will import Dragonfly into France. The company, based in Sables-d'Olonne from next spring will manage the sale, maintenance and rental for the brand's customers.