Develop brand awareness in France
Evo Yachts France took advantage of the Paris Boat Show to officially launch the brand in France "The French market is very important and the Paris show very interesting for us. It is for this reason that we have chosen to announce the launch of Evo Yachts France in the capital, as official distributor" explains Jean-Marc Bichot, Sales Manager of the brand in France and Corsica.
Jean-Marc Bichot is not unknown in the nautical world since he used to work for JMA Yachting, managed by Jean-Marie Ambrosino, and importer of major Italian boat brands.
"Evo Yachts France is a subsidiary of JMA Yachting, specialized in the sale and rental of new and used boats and based in Port Féjus (83). We have 20 years of experience, with an impeccable after-sales service, we prepare the boats, offer charter and have a local and international clientele.
We were looking for a custom product since 1 ½ year to standardize our activity. We are aware that this is a niche product, but we found this with Evo Yachts. Within 2 years, there will be an evolution of the day boat as Valerio Rivellini (NDRL: architect and designer of the Evo boats) imagined. And that's what our customers are looking for" explains Jean-Marie Ambrosino.
For the French launch was present Corrado del Fanti, International Sales & Marketing Manager of the brand, highlighting "the professionalism of this young and dynamic company that had fully integrated the spirit of the Evo Yacht brand."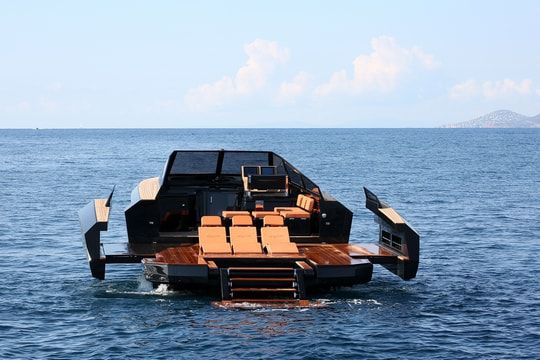 Develop the brand in this niche market
Evo Yachts will continue to develop its range by proposing new models. After the 43 and the WA, the Italian yard will launch a 53 foot in 2018 (Evo R3), a R5 and a R6 in September 2019, as well as a new 38 foot (entry-level) in 2020.
"The objective is to sell 40 boats a year in five years, knowing that the brand made its debut two years ago. So far, we have produced and sold 10 units in Europe and the USA, including one unit as a tender for superyacht. We are aware that this is a niche market" explains Jean-Marc Bichot.
The birth of Evo Yachts
Evo Yachts belongs to three Italian brothers - Giuseppe, Alfredo and Rosario Mercuri - owners of a train safety systems company and passionate about innovation.
Three years ago - in 2014 - they formed partnerships with Italian shipyards to produce a new type of boat before turning to the architecture firm Studio Tecnico Navale Rivellini "The Evo 43 is the result of a personal design for a new non-conventional boat, which can act as a tender or chaseboat for maxiboats" explains Corrado del Fanti.
The specifications are as follows: a boat with a lot of space and which allows to stay in permanent contact with the sea.
The first boat is born in 2015 and is known thanks to its modern design, but especially thanks to a 40% extensible cockpit, convertible into a 25m2 bathing area "Evo Yachts is a different way of looking at sailing. We tried with passion and innovation to transform the space and to offer a different configuration and a different design, while proposing a simple and beautiful quality boat" concluded Corrado del Fanti.