First One-Design with tilting keel
Melges' new yacht is a high-tech bet The Melges 40 is the first monotype with a canting keel. The electro-hydraulic pack and powerful batteries ensure that the rocking movement takes place in a very short time. "Transfers and gybes are as simple and fast as on a classic boat" according to Federico Michetti, Melges Europe's manager. The new appendage increases performance and sail area while maintaining performance on banana courses, a new challenge with a canting keel.
Careful construction
The largest unit marketed by Melges, the Melges 40 is the brand's first keelboat entirely made of carbon fibre. Instead of producing these highly technical yachts itself, Melges chose to partner with Premier Composite Technologies, based in Dubai. It has made a name for itself in carbon racing yachts with units like the TP 52 Platoon.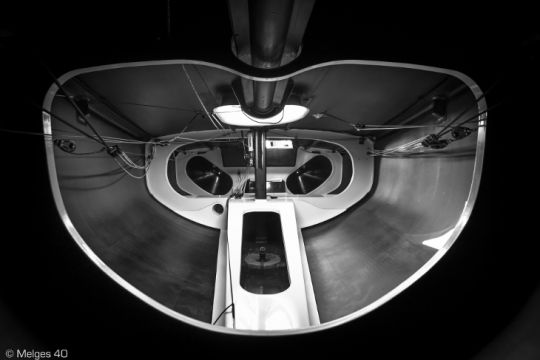 Create a new 40-foot one-design circuit
"Since the gradual disappearance of the Farr 40, the one-design sailboat market around 40 feet is very scattered. The objective with the Melges 40 is therefore to tackle this market, with its own technological style, and to relaunch a large fleet. The goal is to quickly create a club of owners, with 15 to 20 boats, racing together in the most beautiful places in the world. "says Federico Michetti
A niche market
With a budget of $650,000 for a complete boat, the Melges 40 will not be accessible to everyone. It will initially reach the classic Melges Europe markets of Italy, Sweden, Germany and Russia.
As the manager of Melges Europe points out,"the regatta market is a niche and the technical regatta market like Melges is a niche in the niche Nevertheless, he is convinced, the customers are there, who"feel old not to fly on foils and who want to add a little spice in their way of sailing