A thruster integrated into the rudder
The new Hanse 315 E-Motion Rudder offers an innovative propulsion system. The 4 kW electric motor of the sailboat is directly integrated on the rudder. The base, traditionally located at the foot of the Torqeedo outboards, is attached to the shovel, leaving the propeller a few centimetres from the trailing edge of the rudder.
Industrial partnership
The E Motion rudder is a joint development between the German shipyard Hanse, its fellow engine manufacturer Torqeedo and the steering specialist Jefa. Everyone was able to contribute their expertise to the development of the new system. It is also a nice joint communication operation.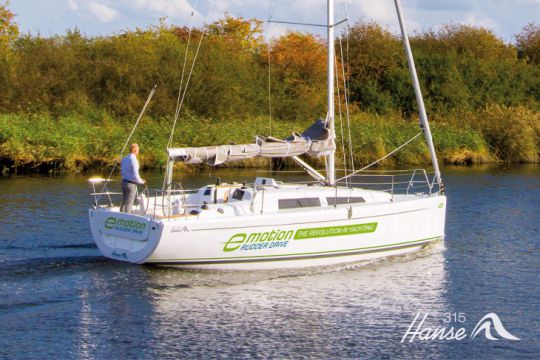 Exit the saildrive
From the manufacturer's point of view, the new arrangement makes assembly easier and saves weight. Indeed, unlike existing solutions, the electric motor does not just replace the inboard engine, but the complete sail-drive. The weight of the base is saved, the function being ensured by the rudder shovel. It frees up space in living spaces.
Hanse announces a weight saving of 100 kg compared to the equivalent thermal model.
The advantages of the outboard and the inboard
The new Hanse E-Motion Rudder offers the advantages of both the electric outboard and the inboard. The directionality of the flow allows manoeuvring as easily as with an outboard, while the integration of the lithium-ion batteries and the base plate allows a better centering of the weights and a smaller size, as for the inboard.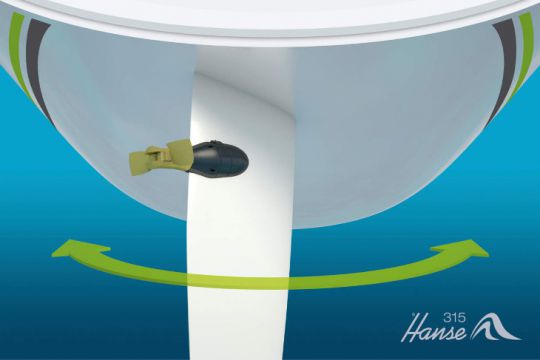 Electricity obviously avoids noise and odour nuisance and saves the construction site piping work, replaced by wiring, a cleaner activity.
Quick recharge
The yard announces an autonomy of 30 miles at 4.5 knots. A rapid charging system should enable complete autonomy to be regained within three hours of docking.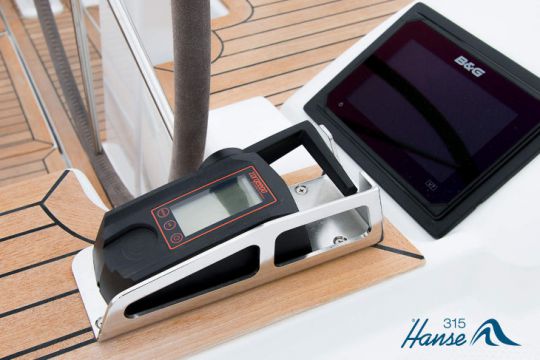 Maintenance
The only remaining question is the maintenance of the engine, which is powered by the rudder, could prove difficult. Together with its partners Torqeedo and Jefa, Hanse claims to have designed a simple system with a reduced number of moving parts, thus requiring little maintenance.
The first boat will be presented at the Hamburg boat show on October 30th.