A solid foundation
True to the Open C Yachts philosophy already mentioned in these columns, the brand's new catamarans are based on existing plans. These are sailboats designed by South African architect Dudley Dix for the American market. "Based in the United States, Dudley Dix combines knowledge of the overseas market and a South African approach to sailing, close to European sensibility" says Thomas Duhen, manager of Open C Yachts.
Adaptation to the French market.
In order to propose the sailboat most adapted to the French requests, Open C Yachts has reworked the plans with the architect. While maintaining a proven hull, the interiors have been revised to meet European standards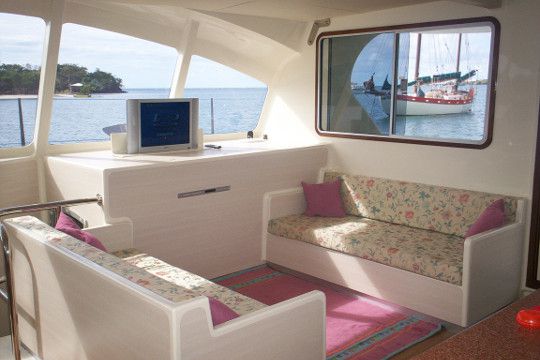 Bright interior
CP Epoxy, a good compromise weight, price, manufacturing
While plywood scares customers in some countries, it is well accepted in France. However, although production monohulls are selling well, few catamarans exist on the market. Open C Yacht therefore wishes to position itself in this niche which allows it to build without a mould, and therefore with a limited initial investment. It thus offers a light and powerful boat at a price contained according to Thomas Duhen below 1 M € for the 55 feet.
A case to follow, on a busy catamaran market...
Characteristics
Open C Cat 550
Length HT 16.75 m
Length Flotation 15.70 m
Bau 8,70 m
Draft 0.75 m/2.19 m
Displacement 12.500 kg
Upwind sail area 127.7 m2
Open C Cat 470
Length HT 14.24 m
Length Flotation 13.35 m
Bau 7,70 m
Draft 0.75 m/2.19 m
Displacement 10.600 kg
Upwind sail area 102.12 m2