Limit risk taking
Open C Yachts was created by Thomas Duhen, already manager of the yacht distribution company Forum Marine. Unhappy buyer of the Archambault yard, he created at the time the Open C Yachts brand as a support for the sale of new innovative models intended to revitalize the yard without bearing the brand.
Faced with the impossibility of straightening the Poitevin yard, he continued the activity of Open C Yachts by drawing the consequences of this experience. To limit risks and investments, Thomas Duhen decided to base himself on existing boat plans, adapting them to the French market. Only architectural services remain to be settled. Once the order has been placed, the construction is carried out by service providers specialised in each field, Open C Yachts acting as assembler.
Freedom of design choices
Open C Yachts is not dependent on its production tool for the design choices of its yachts. The models are defined from navigation programs, derived from the preliminary market study. Material varies by model. "Archambault's experience showed me the difficulty of innovating with the blockage due to the habits of a production site. For Open C Yachts, it is the program that dictates the construction mode and not the reverse".
The range is now composed of a 40-foot infusion catamaran, the OpenC 39, an epoxy plywood monohull, recently completed by two plywood catamarans, the OpenC Cat 550 and 470. A 52-foot aluminum cruising sailboat is under development.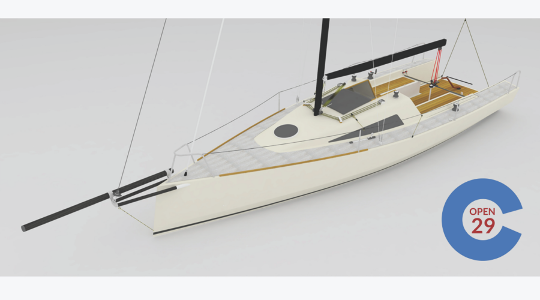 No moulds
To limit costs, the entire range is produced without moulds. Even the Open C Cat 40, derived from the Fusion 40, built in infused parts, is delivered as a kit by the service provider then assembled by Open C Yacht.
Benefit from proven projects
The use of existing plans, allows to benefit from the experience acquired for the manufacture. In addition, they make it possible to organize possible preliminary tests. Enough to launch a range at a lower cost. Case to follow...