A leader in the semi-rigid industry
Marshall is an Italian semi-rigid brand born in the 80s. Before its bankruptcy in 1990, it was one of the European leaders in the sector, along with Zodiac - and enjoys a strong reputation, especially in Northern Europe - with more than 2?000 boats sold every year. " It's a historic brand, which was as strong and present as Zodiac and complements the BWA line." explains Fabrice Boyer of Ribitaly.
Bought a few years later by the band Ribitaly S.R.L - owner of the BWA semi-rigid bands and BMA rigid-hull openers - the mythical brand is back on the scene. Indeed, three years ago, the Italian manufacturer decided to relaunch Marshall, in partnership with Suzuki. "We wanted to offer something new in terms of business approach. There are few yards that sell boats with an engine already installed. Suzuki agreed to partner with this iconic brand and has a range that suits all types of products." adds Fabrice Boyer.
A simple offer
Behind this partnership with Suzuki, the desire is to propose a simple offer. " It will be a closed package with a price list of 20 boat/engine configurations. In total, there are 4 boat lengths offered in 2 or 3 deck versions (Open, Touring and Passenger) and with 2 or 3 engine versions" details Fabrice Boyer.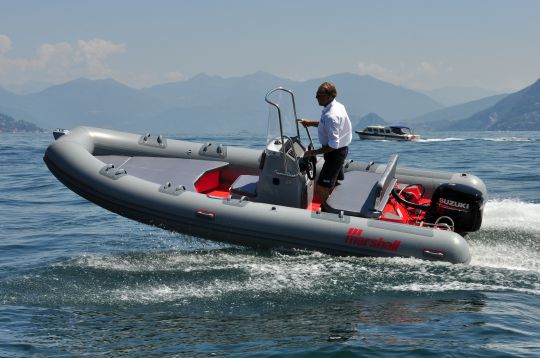 Complementary brands
With its simple, rustic and modular models, Marshall complements the BWA brand of Mediterranean type RIBs. Simple in terms of equipment and presentation - there are no options -, they will be sold in a single colour of rope and gel coat. Although the boats were initially red at the time, the manufacturer has chosen to relaunch them in grey, which is more all-purpose.
With this new brand, Ribitaly will be able to invest in new markets outside the Mediterranean.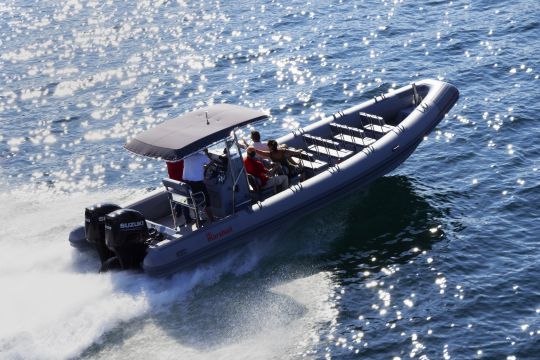 A new network of distributors
New brands mean new networks of distributors. Each brand has its own network, and Marshall should soon have its own. For the moment, networks have opened in Italy, Switzerland and France and Fabrice Boyer intends to continue developing other distributors abroad. By offering boats at a more aggressive price than BWA and fully assembled - the boats are built in Italy - distributors will be able to have a boat available and ready to deliver.