Method Boats: A new brand of boats for the Experton-Revollier group
On the occasion of the Nautic 2019, Method Boats held its first boat show for the general public. The brand of motor boats designed for sliding, wakeboarding and water skiing is the latest diversification of the Experton-Revollier group. The family steel group, already present in the nautical sector since the successive acquisitions of the Wauquiez and Tofinou sailboat brands and the Rhea motor boats, is creating for the first time a boat brand. This one does not start from scratch, because Method is a wakeboard brand, already owned by its subsidiary Exo Loisirs, which also manages wake parks and water teleskiing.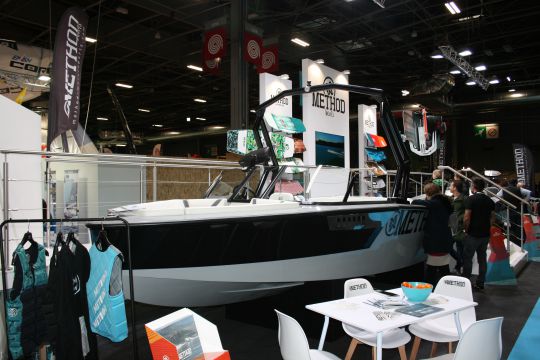 Creates the 1st French brand of wake boats
" Our aim was to create the 1st French brand of boats for wakeboarding and water skiing " explains Guillaume Morin, operator of a water skiing base in the Alps, who has been following the project from the beginning at Method Boats. To conquer this market dominated by American shipyards, the teams relied on the resources of the Experton-Revollier group. The design was carried out by the Wauquiez design office, while the hull was built by the Rhea Marine shipyard in La Rochelle. 2 years of tests in clubs allowed to validate the concepts. " We target both individuals and water-ski and wakeboard clubs. We are counting in particular on the partnership with the French Federation on the French water skiing championship in 2020 to raise the profile of boats "says Guillaume Morin.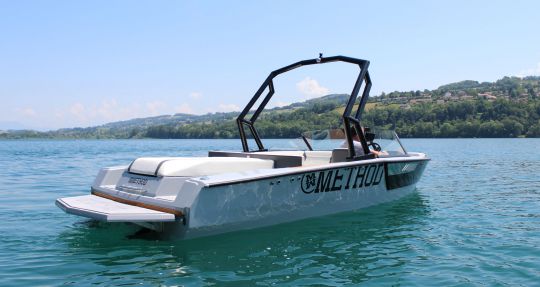 2 models of low-cost boats
The Method Boats boat is available in 2 models, based on the same 6.18 m long hull. The first version dedicated to water skiing has a 440 HP central engine from Indmar. The second, more oriented towards wakeboarding, is equipped with a 350 HP rear engine from Volvo. 200 L ballasts at the front and 2x370 L at the rear, optional, allow you to work the wave. " We manage to offer the water skiing version for less than 72 000 euros and the wakeboard version for less than 102 000 euros. We're cheaper than American ships "concludes Guillaume Morin.