Electric toilets that are easy to install on board the boat
SFA's new marine toilet, the Sanimarin 32, is a revolutionary model whose innovations make it possible to guarantee a simple, easy and fast installation on board ships.
The toilet integrates the control knob directly into the bowl. This provision allows, among other things, nautical construction sites to simply install this turnkey product, without any drilling of the bulkhead and by limiting the number of wire passages as much as possible. Its design and configuration save the manufacturer time and money.
Of dimensions similar to a manual marine toilet, it can easily be adapted to a overboat to replace an existing toilet.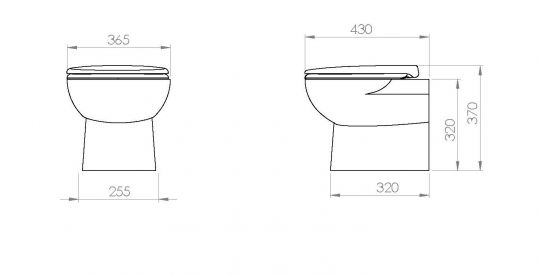 An integrated button for optimal flush and energy management
The flush control knob, positioned behind the toilet bowl, is available in two versions. The "Comfort Luxe" system offers two rinsing cycles. The eco-cycle reduces by half the volume of water used, limited to 1.2 L, thus providing a function that is now widespread on land.
A dry bowl control is also available to avoid the risk of overflow during navigation.
A full black water tank indicator guarantees control of the effluent network.
Reflection on shortened rinsing cycles saves water and energy, which are essential on board recreational boats.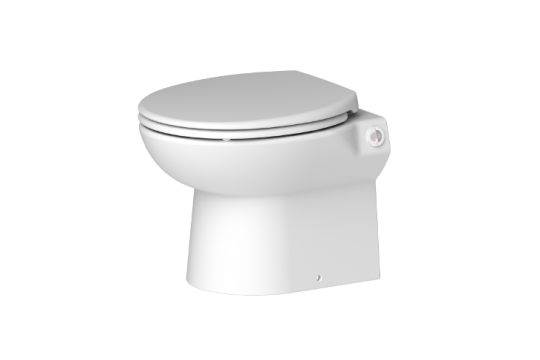 Reliability and discretion of SFA toilets
In addition, the new model benefits from all the know-how of SFA and the Sanimarin range. Manufactured in France for 60 years, they offer a high level of reliability.
The stainless steel grinding system ensures that liquid effluent is returned to the black water tank. This limits and facilitates the maintenance of the entire black water network.
Extremely quiet, Sanimarin toilets are also appreciated by boaters for their aesthetics. The integration of the shredder in the foot of the Sanimarin 32 allows it to find its natural place in the sanitary facilities of luxury boats.