What can I say to a customer who wants to throw away a carbon bike?
The association Recycling Carbon was born from a question about the activity of Vincent Gamboa, a repairman of carbon fibre parts for equipment manufacturers. A customer asks him where he should throw away his irreparable carbon bicycle frame. The professional has no answer. He talks about it with his friend Lucas Meslin and both of them see it as a worrying issue. "Carbon production is increasing and there is no valuation. Today, the only answer is landfilling, while carbon and resins are not biodegradable. And the problem will get worse," explains Lucas Meslin.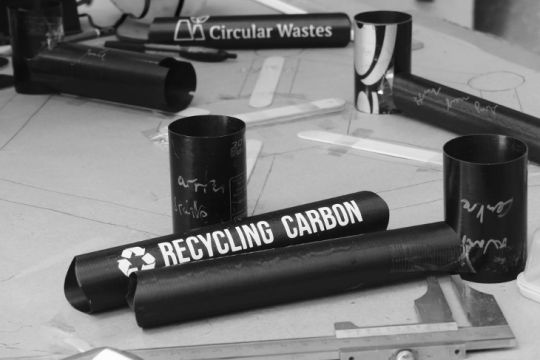 Creation of Recycling Carbon
"We went deeper into the subject and saw that there was a demand for support from companies in the field. So we created the association Recycling Carbon" continues Lucas Meslin. Subsequently, the start-up Circular Wastes was founded in parallel to respond to large companies reluctant to join associations when it comes to sensitive parts such as in the aeronautics industry.
With a workshop, teams can repair and find new uses for existing carbon parts. In addition to awareness-raising actions at trade fairs such as the JEC, the structures offer advisory services to companies and promote a form of circular economy by involving all stakeholders in communication. "Carbon is a recent industry-wide issue. Not all the connections between the different actors are made," explains Lucas Meslin.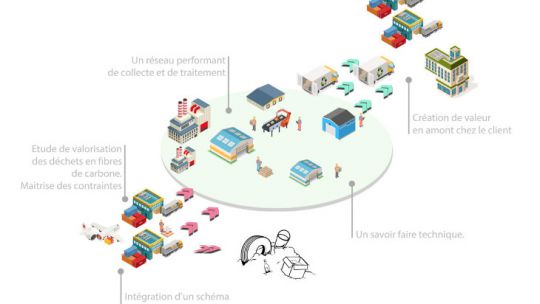 Giving a 2nd life to surfboards
Recycling Carbon is currently working with Decathlon in the surfing industry. She is working on a cooperation scheme between the chain's stores and shapers to encourage the repair of damaged surfboards. Launched in Anglet and Hendaye, the project could continue in other coastal areas. Beyond that, the carbon issue affects many stakeholders in the boating industry, from boat builders to equipment manufacturers. If Recycling Carbon cannot treat all the waste in the process, the structure can help to find solutions. "We are not a processing centre and we do not have the capacity to collect large volumes. On the other hand, we are moving forward in project mode. Each one allows to identify an exit and reuse path for a part typology. This serves as a laboratory to be able to set up more consistent schemes with professionals," concludes Lucas Meslin.