A family project
The adventure Windelo (a contraction of Wind, the English word for wind, and Mindelo, the Cape Verdean port known to sailors and Cesaria Evora fans) began with a personal project. Olivier Kauffmann, an entrepreneur who worked for Decathlon's management before launching Orange Marine, is thinking about buying a sailboat for his family sailing. If he wants a high-performance catamaran, he doesn't want to sacrifice the living space on board. Not finding an answer that meets his expectations on the market, the reflection leads to a one-off project. But as he discusses his relationships in the yachting industry, they convince him to consider launching a brand of production yachts. His children Hélène and Gautier, already involved in the initial project, joined him for the launch of Windelo.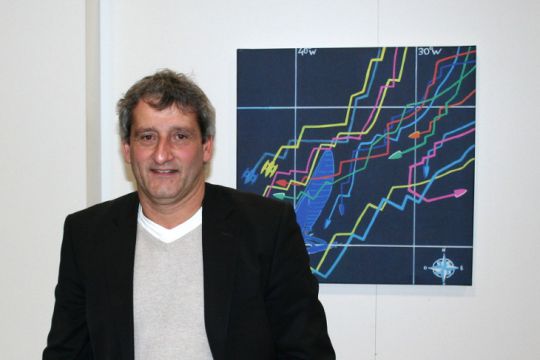 Olivier Kauffmann, founder of Windelo
Optimize space on board the catamaran
The work with naval architects Christophe Barreau and Frédéric Neuman focused on the use of space on board the boat. On a catamaran, the volume is in the nacelle. The choice was therefore made to bring the cockpit back to the mast base with two side bars. Removable walls protect the area while sailing or anchoring. The rear volume is thus fully released. "We have like a loft, a large space to modulate. " explains Olivier Kauffmann.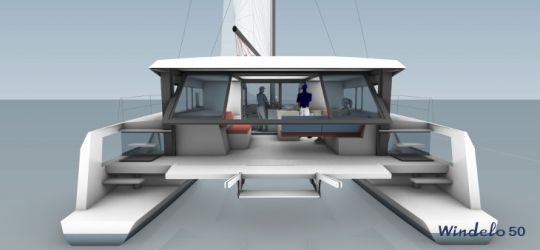 Find an intermediate economic positioning
The catamaran market is nowadays very segmented between the high-performance and expensive high-end segment and large productions that focus on space and on-board equipment. Windelo wants to find his place between the two. "The first objective, and it's Windelo's DNA: it's to have a marine boat. We are not going to walk on the flowerbeds of the major catamaran manufacturers, but we want to be a little less exclusive than the top of the range today, both in terms of prices and concessions on space. We must position ourselves between the two, below the middle, by playing on the construction mode."
The target clientele is mainly private pleasure boaters with an effective travel program. Rental companies wishing to diversify their offer will complete the target.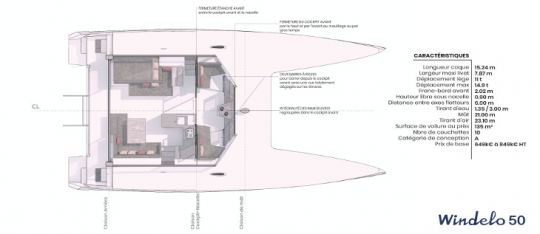 First catamaran in 2020
The brand will start by launching a 50-foot sailing catamaran for the Grande Motte 2020 show. Manufacturing will begin in spring 2019 in a leased plant in Canet-en-Roussillon and will continue in a specially built plant. Marketing will be launched in spring 2019. The size of the following models will depend on the market response.
Recruitment has already begun. The team consists of 8 people, including members of the design office and team leaders for manufacturing. It also relies on the expertise of Jean Pierre Prade, founder of the Catana shipyard.