Evolving in the boating industry
The electric pedal boat E-Pedal Yacht was born from the will of Bernard Jean, its designer, to change activity. After 25 years in the production of foam advertising products in La Baule, particularly floating key rings for many boating professionals, the entrepreneur wanted new projects. His first idea was to set up a nautical base abroad in a country where small electric boats were not available. Faced with regulatory difficulties, Bernard Jean planned to produce his boats locally and started looking for a hull model. He then became interested in pedal boats and realized that the electric pedal boat did not exist. He then held his project which became the E-Pedal Yacht.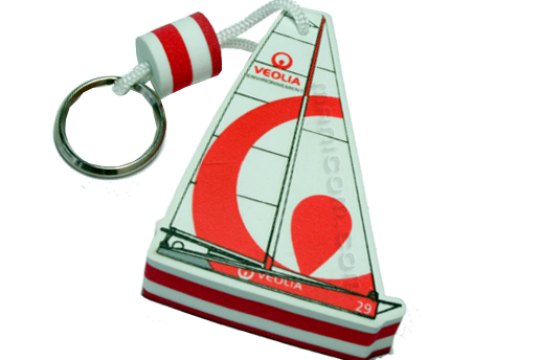 More ecological than a simple electric boat
"The idea of the E-Pedal Yacht is to make the passenger active because we have to admit that after a while, on these electric boats, if we forgot the aperitif, we get bored," says Bernard Jean. "The boat is also more ecological because we participate in the propulsion." In the absence of any obligation to pedal, as is the case for bicycles not to be considered a motorized vehicle, the E-Pedal Yacht has 3 drive modes for its paddle wheel: pure mechanics, electrically assisted pedaling or pure electric propulsion. The 4.3 m long boat, weighing 200 kg, is equipped with two crankset and a 350 W motor. It carries 2 batteries of 100 Ah in 12V.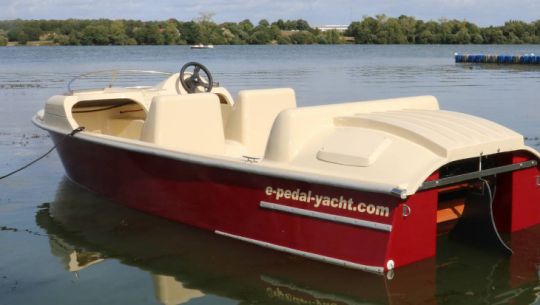 Attractive nautical bases
Bernard Jean targets the nautical base market. "There are 2 types of customers: nautical bases that want an additional offer to the classic electric boats and those that do not have propeller boats. We offer a cheaper solution because there are fewer specifically marine technical parts. The future version with Lithium batteries, removable and coupled to solar panels, will allow the batteries to be charged on land in an office, without the need for electrified pontoons, which are absent in many bases."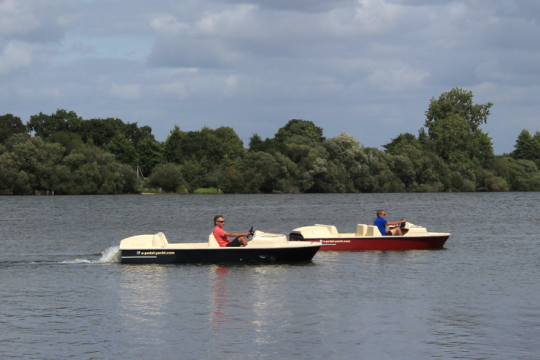 Reliability of the boat for mass production
6 prototypes were tested during the summer of 2018 in boat rental bases in Nantes, Redon and the Marais Poitevin. If the mechanics have not encountered any problems, there are still electrical problems to be solved. E-Pedal yacht is therefore working with the ICAM Nantes engineering school for its 2nd stage of development of the electrical installation, notably the motorisation and controllers, in view of the rapidly planned series production.