Can you give a few figures on Marsaudon Composites' activity?
The company currently employs 49 people. Every year, Marsaudon Composites delivers between 4 and 5 new catamarans per year, as well as moulds and tools for the nautical industry. Our annual turnover is between 5 and 5,5 M €.
How is the activity articulated between pleasure catamarans, tools and offshore racing in which you have beautiful references?
We can say that today, ocean racing is over. Our main objective is to develop the pleasure catamaran activity. For this, we are launching two new models in addition to the TS42. These are the TS3, a sporty 35-footer and the TS5, a 50-footer in the tradition of the TS42. An official brand TS Catamarans is created, as a branch of Marsaudon Composites. In addition, we want to maintain our activity volume in subcontracting and tool construction. Today, TS 42 represent 50% of the activity, tools and moulds account for 25% and the rest is subcontracted for Catlante charter catamarans, i.e. 1 to 2 multihulls of 70 feet per year.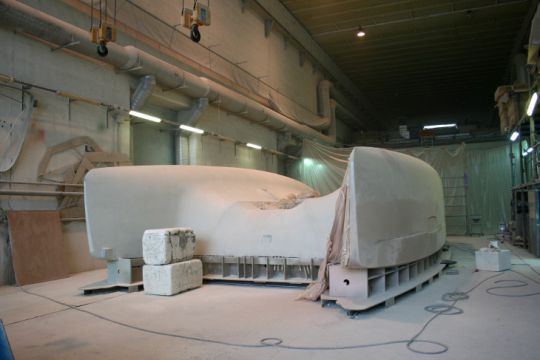 What are your growth prospects with this program?
Today, TS Catamarans, we only need to build them to sell them. We have already sold 5 TS5 on plan. While we go out between 4 and 5 boats per year, the objective is to produce about ten of them. We are building a sales network for this.
From an industrial point of view, how will you keep up?
Today, with the 3 naves in the Lorient submarine base, we have space. The main limitation is the staff. I am obliged to use the pillars of the workshop to the full, because I am permanently missing 5 to 7 employees. We train in-house, with apprentices, so there is turnover to find the right employee. I prefer to hire a motivated person who does not know composite than a moderately motivated expert.