To begin, could you explain your role within the Chantier des Ileaux and how you got there?
I arrived at the Chantier des Ileaux following the fire that ravaged the installations in November 2015. The story touched me and via a mutual friend, I suggested to Frédéric Maingret, the shipyard's boss, to volunteer to take care of crowdfunding to relaunch the activity. After 8 months, while boat building was resuming, I wanted to continue and I offered to work for him at the shipyard communication. I left my life as a stressed Parisian executive for the calm of Noirmoutier and that suits me very well!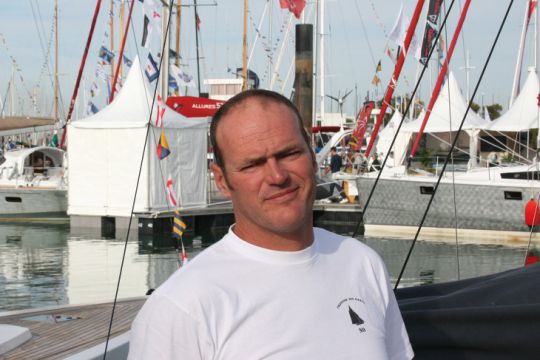 Frédéric Maingret, owner of Chantier des Ileaux
Can you give us some figures to summarize the activity of the site?
The Chantier des Ileaux currently employs 6 people on a permanent basis with a few additional staff depending on the projects. We were 10 this winter. The annual turnover is slightly less than 500 € k?. Modern composite wood accounts for two thirds of the activity, the remaining third being traditional marine carpentry. The composite part is divided into 2/3 for new boats and 1/3 for maintenance. It is important to note that the quality of the work has convinced almost all the owners of boats built at the yard, wherever they are, to winter their sailboat at the Chantier des Ileaux.
What are the site's development projects?
We have already worked well with the Ileaux 2.0 project. This is how we named the reconstruction of the site. We didn't just rebuild the same. There is now a real insulated and heated composite workshop to laminate all year round in good conditions. There is also a new lifting system. We moved into these new buildings in September 2017, after spending 2 years in premises made available.
On the production side, the objective is not to get bigger to get bigger. We get out 1 or 2 new boats a year and we want to stay on top of the range, with custom made boats that smell like wood. We should start a very nice day-boat for New York soon. There is no race for turnover, we have no moulds to make profitable.
There is also a revival of activity in traditional catering, with large projects that occupy many hours.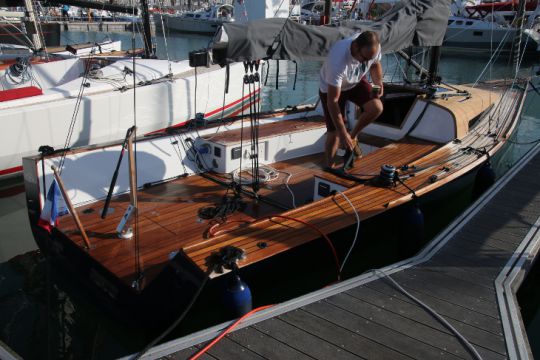 The Rosso 28, with a teak roof that smells like wood!
From a commercial point of view, what is your strategy?
We have a real will to integrate digital. To make yourself known when you are at the bottom of Noirmoutier, it goes through the internet. Our educated and wealthy clientele, often business leaders, is very present on social networks like LinkedIn. It's up to us to find him there.