A special tool for wooden masts and spars
Since 2010, Samuel Zambaldi has been developing his activity as a marine carpenter. In 2017, he chose to take a strong step to develop the manufacture of wooden spars and masts for traditional and pleasure boats. A major step in this process, he has just inaugurated in October 2019 a unique 30-metre wood lathe, custom-built by his manufacturer for the construction of the rigs. "It works between the milling machine and the lathe. A drag moving along 3 axes allows to make square or rectangular shapes for the mast feet for example. The rotation of the lathe gives the 4th axis to make circles. With the eccentric, you can also make ellipses. I'm still discovering all the possibilities of the machine for making complex parts," says Samuel Zambaldi with pleasure.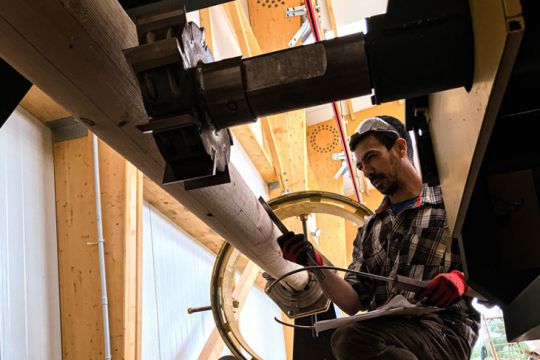 A software for dimensioning wooden rigs
The manufacturing tool is part of a global development process. The project, supported by the Brittany Region, also includes a design part. In partnership with the architect André Herskovits, a software package for sizing the rigging, based on abacuses taking into account the sail plan and the characteristics of the yacht, is currently being validated. "It's a parametric system necessary because we work on single boats, mostly without plans," explains Samuel Zambaldi.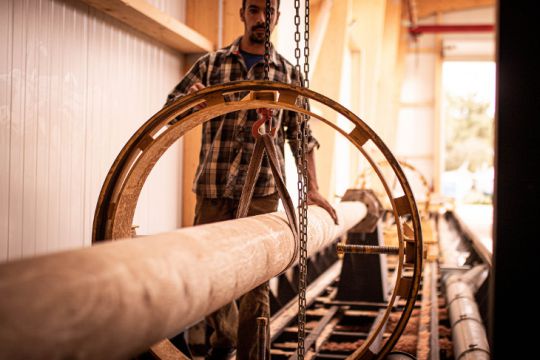 New buildings to develop Charpentier Marine Morbihan
The overall investment of approximately 250,000 euros should enable the Charpentier Marine Morbihan company to develop its business. The acquisition of the tower was accompanied by the move to new premises of 2x300 m² covered, equipped with suitable handling equipment. A stock of 20 m3 of wood was purchased for the manufacture of the spars. The company now has the right tool for its ambitions in yachting, but also in other related sectors. "The objective is to become a reference in the manufacture of spars. We've increased our speed four or five times around the turn. We take out 3 to 4 small parts a day when a carpenter used to make one. If our core business remains marine carpentry, the long-term objective is to be 50% spars manufacturing."